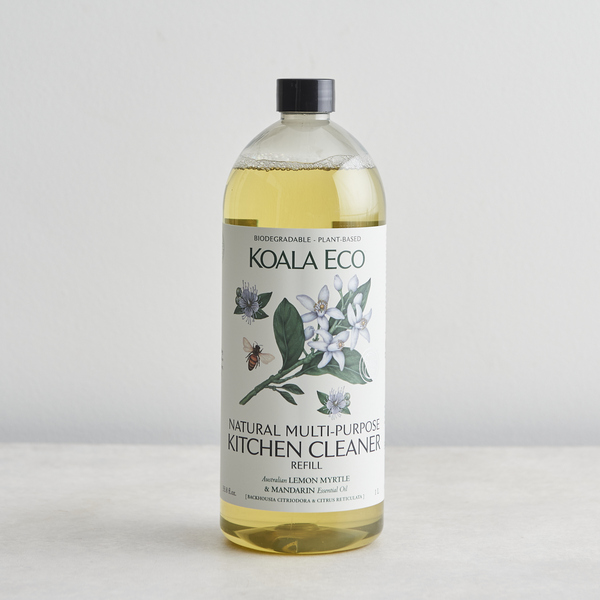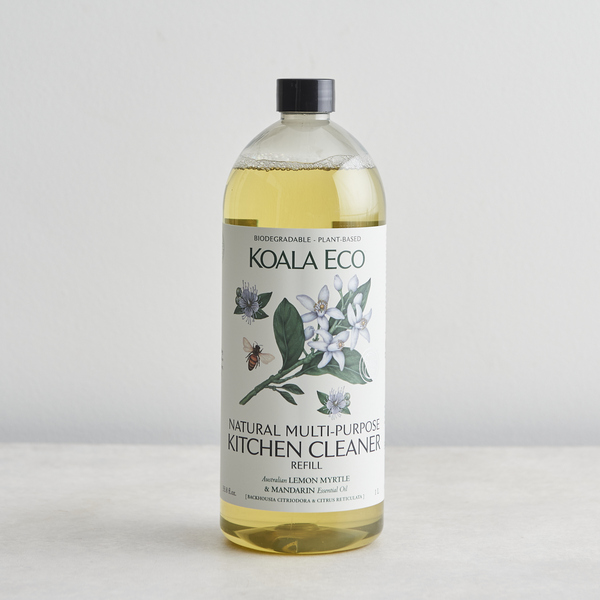 Koala Eco Natural Multi-Purpose Kitchen Cleaner Refill 1L
This kitchen cleaner is safe for fridge, dishwasher, microwave oven, benches & all food storage & preparation areas. This biodegradable & eco-friendly plant-based formula effortlessly cleans, removes bacteria & deodorises, without toxic chemicals. 100% post consumer recycled bottle.
Kind to your family and the environment. Everything Koala Eco make is: biodegradable, plant-based, never tested on animals, grey water and septic safe. We don't use: palm oil, dyes, masking agents, synthetic perfumes, chlorine, bleach, sodium laurel sulphates & phosphates.
Kills 99.9% of germs
Natural
Effective & powerful
Natural disinfectant
Refreshing scent
Eco-friendly
Non-toxic
No synthetic perfume
Anti-fungal
Ingredients: Backhousia Citriodora (Lemon Myrtle essential oil), Citrus reticulata (Mandarin essential oil), Aqua (purified water), sugar-based biodegradable alcohol, vinegar, plant-based biodegradable surfactant, plant-based biodegradable solubiliser.
About Koala Eco: Koala Eco's aim is to create safe, powerful, plant-based products using natural, sustainable ingredients, while aiding people's wellbeing by connecting them to nature.

Their products are non-toxic, natural and sustainable. They are not tested on animals and do not contain any harmful chemicals or synthetic fragrance, smelling only of glorious Australian essential oils.
Their bottles are made with 100% recycled and recyclable materials so no new plastic is created and for every bottle sold they donate a percentage to the charity One Percent for the Planet. They are also proud sponsors of WWF Australia and Port Stephens Koalas.
Made on Eora Country - Sydney