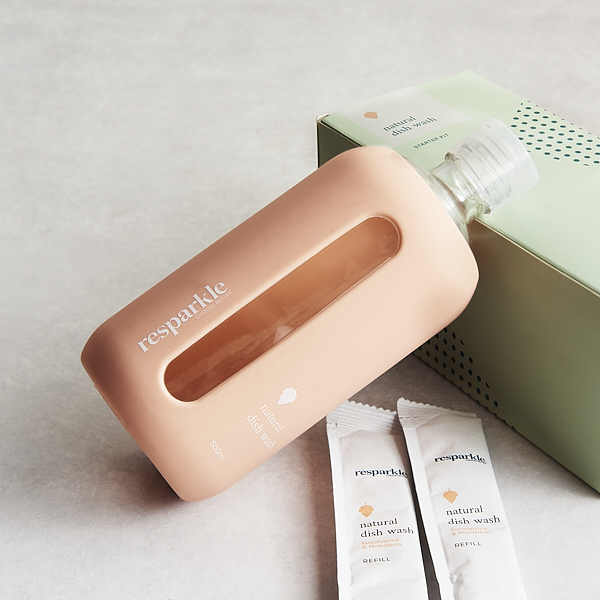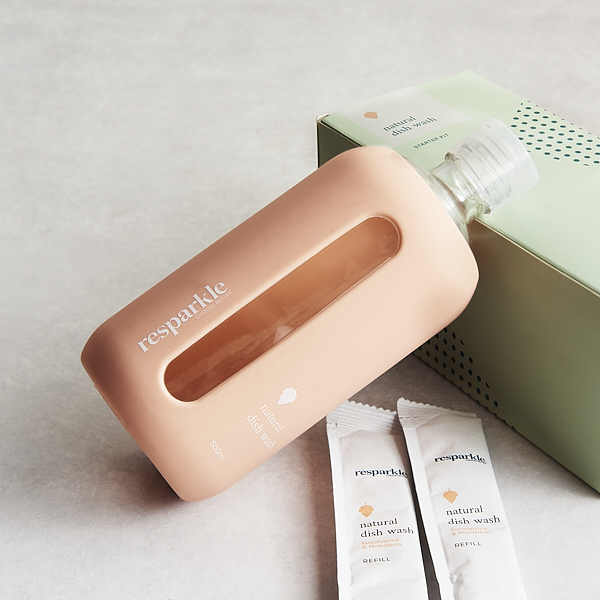 Resparkle Dishwash Kit 500ml
An ultra concentrated dishwash formula made of organic, plant based ingredients with Eucalyptus & Mandarin essential oils. This eco-friendly starter kit pairs a reusable, silicon-protected glass bottle with dishwash powder. Just add water!
Plant based formula (low in suds) & home compostable sachet.
NOTE:
The product is low in suds. A higher dosage is required if you wish to create more suds volume if using the sink method of cleaning.
For greasy/oily fry pan, it is recommended that you apply the dish liquid directly on a wet sponge. (Approximately 4 quick shakes to the wet sponge)
Ingredients:
Plant based surfactants, Sodium bicarbonate, Citric acid, Sodium benzonate, Potassium sorbate, Essential oils.
Usage directions:
Cut sachet following the tear line.
Pour 2x powder carefully into the bottle.
Fill the bottle all the way to the top with warm water.
Cap bottle securely and give it a gentle swirl.
Leave for approximately 40 minutes or until the powders are completely dissolved.
Resparkle make all natural, concentrated, plant-based cleaning blends that are diluted at home in a reusable spray bottle. Founded in Melbourne as an affordable, low-packaging alternative to chemical-filled household cleaners, Pearl has created a range committed to effective and innovative products that contain NO Phosphates / Ammonia / Chlorine / Synthetic Chemicals
www.resparkle.com.au
Made in Australia.