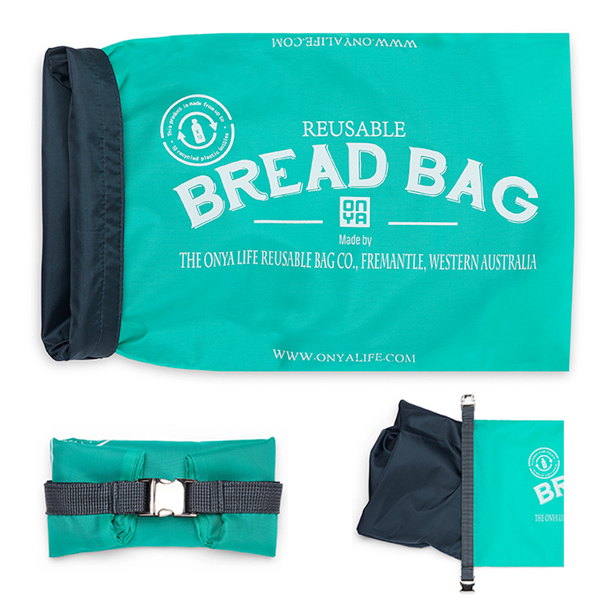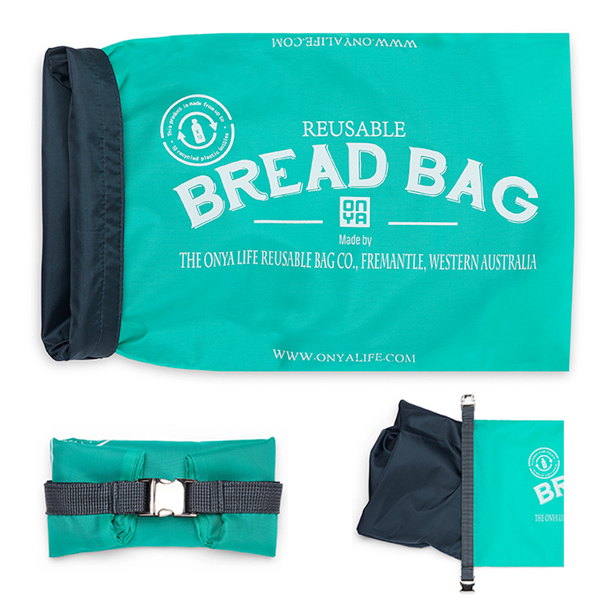 Onya's reusable Bread Bag is made from up to 10 x recycled plastic drink bottles and is designed to replace single use paper or plastic bread bags, plastic toggles and ties.
They are also perfect to use as storage for the home baker. Simply bake, allow your loaf to cool, slice and freeze in your reusable bread bag!
The Bread Bag is big, measuring 41cm long x 25.5cm wide plus a 10cm gussett, to allow even high top loaves up to 16cm high to fit.
Onya's Bread Bags have been made to Australian Bakers Industry Standards and their bag dimensions have been modelled from the size of single use plastic bags normally given out at bakeries. So they are designed to fit over most of the machines bakeries use when slicing the bread.
Due to the unique roll and clip closure, you can simply roll down the closure as the loaf is eaten to ensure maximum freshness is maintained by reducing air movement around the bread.
Bread stored in one of these bread bags can last up to 3 months in a frost free freezer and will not sustain freezer burn due to the unique double lining and airtight roll and lock closure.
To clean, you can just pull out the inner lining to dispose of any crumbs and reuse again. You don't necessarily have to wash it every time, but if you want to, a luke warm hand wash is all that is necessary. Onya recommend handwashing only, as the metal buckles may get damaged or do damage to the interior of a washing machine.
Features:
* Made from up to 10 recycled plastic drink bottles (rPET)
* Pull through inner lining for easy cleaning
* Double lined to help lock in freshness
* Freezer proof due to the unique double lining helps prevent freezer burn
* Fits most sized loaves including "high top" loaves up to 16cm high
* Roll and clip closure also acts as a handle when shopping to make your bread bag a breeze to transport
* Made from BPA Free foodsafe rPET material (recycled plastic drink bottles)
* 100% Recyclable & Sustainable
* Measures 41cm long x 25.5cm wide, 10cm gussett
* Made to Australian Bakers Industry Standards
* 12 month Manufacturers Warranty
Hot Tip: Most fresh bread purchased at a bakery or made at home is preservative free meaning that your loaf will likely only last 2-3 days stored on your bench top before going stale. To preserve your bread for longer it is best to freeze your bread when it is cool but fresh.
Ideally, fresh bread should never be stored in the fridge as this more moist environment can encourage bacteria to form along the surface of the bread forming mould.
Please note:
Onya's goal for their reusable bread bags is to be able help people to reduce single use plastic waste when purchasing bread from the baker, not to make bread last longer on the bench top.
Although made from recycled plastic drink bottles and technically plastic, the rPET material that makes their bags are woven in nature, not solid state plastic like a single use plastic bread bag which is non-permeable for air and water.
Because of the woven nature of the fabric, a solid state plastic bag will definitely prevent air from reaching the loaf better than Onya's bread bags will, when storing your bread on the bench top, which is why they mention that bread will only really last 2-3 days on the bench top, and will likely only be suitable for toast after the first 24hrs. As mentioned above however, Onya bags are Freezer Proof and store your bread really well when frozen from fresh for up to 3 months without freezer burn in a frost free freezer.
Onya bread bags are definitely at their best when used to not only collect your bread from the baker, but also for storing your fresh bakery or home baked sliced bread in the freezer.
A note from Onya on their packaging:
"Our commitment to sustainability extends to our packaging which is made from post-consumer recycled material and printed with water based inks so it is suitable for both recycling or composting!"
Made in China to Onya's strict environmental standards.