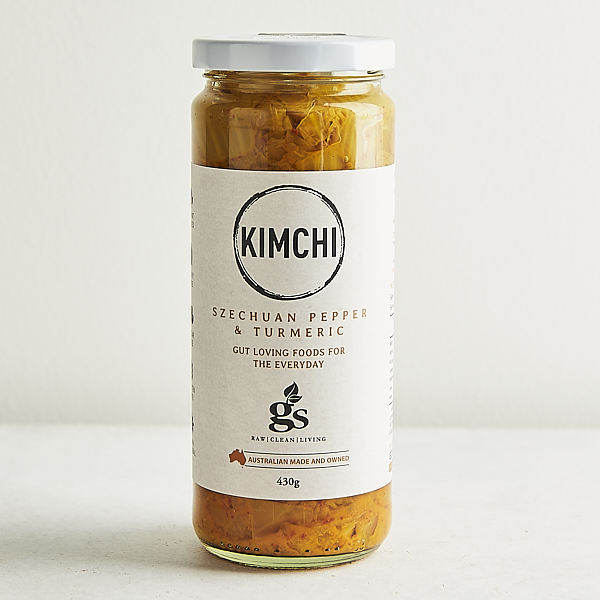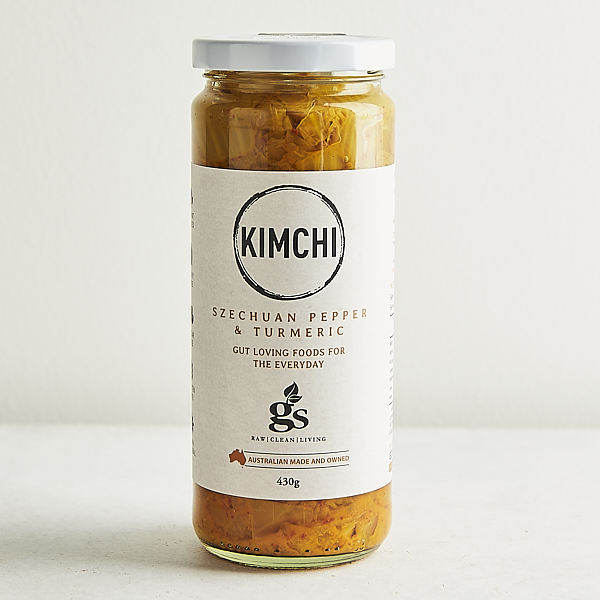 Green Street Kitchen Kimchi Szechuan Pepper & Turmeric 430g
Green Street Kitchen Szechuan Pepper & Turmeric Kimchi mixes hand cut Chinese cabbage with pink shallots, fresh turmeric, coriander seed, Szechuan pepper, white miso, galangal, red pepper powder + garlic.
Clean fresh taste with mild spice & citrus notes.
Ingredients:
Napa cabbage(80%), turmeric, coriander seed, szechuan pepper, red onion, white miso, galangal, garlic, red pepper powder, sea salt.
Naturally Fermented
Kimchi has been a staple of the Korean diet for centuries. This spicy fermented cabbage dish comes in many forms and is an essential part of a Korean meal. Lorded for assisting in maintaining optimum health, raw fermented kimchi is loaded with vitamins, but its biggest benefit is the "living healthy bacteria" called lactobacilli that is created during the fermentation process. This good bacteria helps to replenish your gut flora which will aid with digestion, and not only is our range of kimchi good for you, it also tastes great! Bring your meals to life with Green St Kitchen's raw fermented kimchi.
ABOUT THE FOUNDER:
"My journey in the food industry has been like many other chefs. I have travelled with my trade across the globe, working long days, and have found myself the victim of bad eating habits along the way - often not eating proper meals at the right time, drinking way too much coffee and enjoying a few too many alcoholic beverages. Over time my gut flora and overall health changed and I found I was unable to enjoy the foods I once had. I discovered fermented foods and their benefits at the beginning of 2014; from there I began to immerse myself in learning all that I could about good and bad bacteria and the effects certain types of foods can have on the body and overall gut health. I soon realised that I was not the only person suffering from bad gut health. I started producing my own ferments at home, realising the positive effects it was having on my own health, I decided I wanted to offer others the opportunity to eat my healthy & flavoursome creations- this was the start of Green St Kitchen"
Manufactured in Australia.