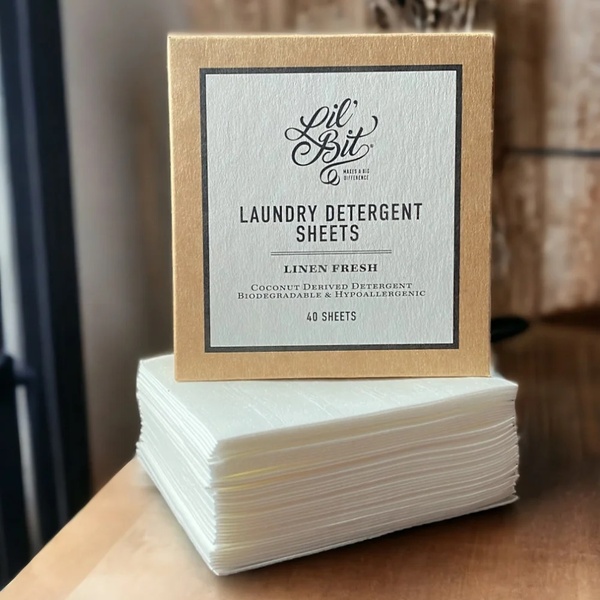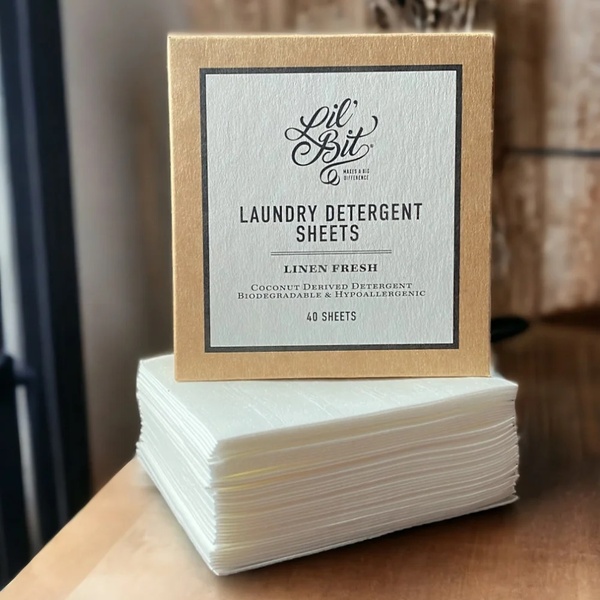 Lil'Bit Laundry Detergent Sheets pack of 40
These pre-measured laundry detergent sheets are hypoallergenic, paraben, phosphate and bleach free, vegan, cruelty and palm oil free, septic and grey water safe with completely compostable packaging. All that for only 50c per load - fresh laundry ahoy!
The sustainably sourced, coconut-based formula is specifically designed to be a safer, kinder alternative to chemical-based detergents making them ideal for those with sensitive skin.
Directions: For top load and front loader machines add the strip directly to the machine drum along with your clothes or place the detergent drawer, either will work well in hot or cold water. Strips can also be used for hand washing.

1 sheet per 2.5kg load
1 - 2 sheets per 8kg load (2-3 sheets for heavy loads)
Ingredients: Water, coconut oil, sodium cocoyl isethionate (plant-derived surfactant), cocomidopropyl betaine (plant-derived surfactant), saponins (plant-derived surfactant), plant based polyvinyl alcohol (biodegradable binder*), pure essential oils (proprietary blend).
Free from parabens, sulfates, dyes, synthetic fragrances, bleach and harsh chemicals.
*Polyvinyl Alcohol (PVA) - Although this sounds awful, PVA is a non-toxic, completely biodegradable polymer used as a binding agent in everything from paper to adhesives, textiles, and films. It is also commonly used in the food packaging industry due to its oxygen barrier properties, which help to preserve the freshness of the packaged products. It's created from plants and is all-natural. It is non-toxic and safe for humans, animals, and marine life. PVA is also commonly used as a contact lens lubricant!
Produced on the unceded lands of the Wurundjeri Woiwurrung and Boonwurrung people of the Kulin nation - Yarra Valley