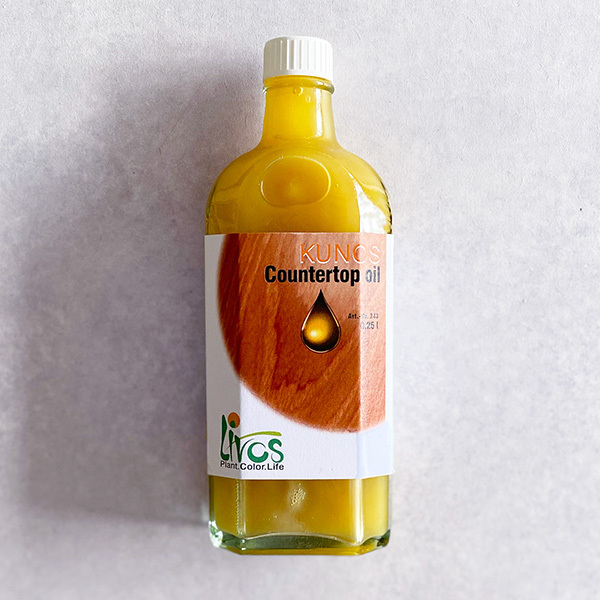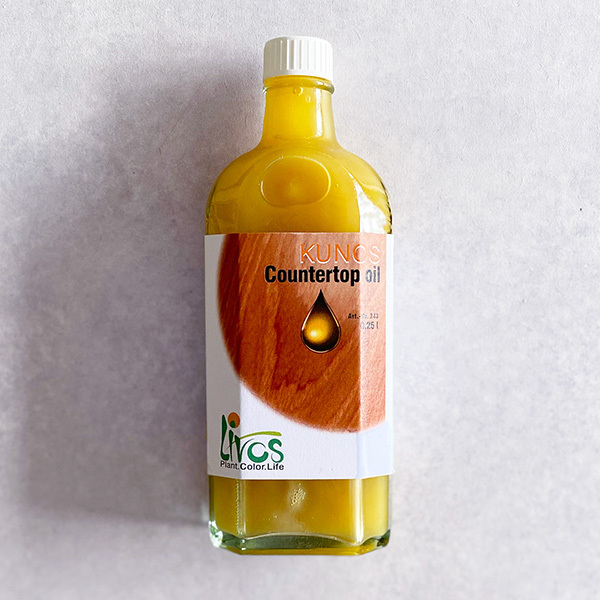 Kunos Countertop Chopping Board Oil 250ml
Kunos Countertop Oil is a water resistant oil finish that protects and prevents discolouration caused by temperature on light wooden surfaces such as chopping boards, table tops and bench tops - no more coffee mug ring marks!


Heat resistant to 50 degrees.
Transparent lustrous, open-pored finish which means you keep the natural wood touch and feel without a thick layer of synthetic product over the wood.
Suitable for use on interior solid timber surfaces. This is a great to use on chopping boards, tabletops, timber benches, bowls, toys, bathroom furniture and fittings, window sills and working surfaces made from oak, alder, beech, maple and others.
Should not be used on veneer, Multiplex boards, plywood or the interior of cabinets.
Water resistant in accordance with DIN 68 861 part 1 (German: Duetsche Industrial Norm).
In compliance with DIN 53 160, which means it is fast to perspiration and saliva. Kunos Countertop Oil is also Certified suitable for toys - DIN EN 71 part 3.
Improves the water resistance of surfaces coated with KUNOS Natural Oil Sealer No. 244 or ARDVOS Universal Wood Oil No. 266. Just paint over with KUNOS 243 CounterTop Oil.
Ingredients: Linseed oil-stand oil-natural resin ester, orange oil, Isoaliphates, silicic acid, micronized wax and drying agents.
 Free of lead.