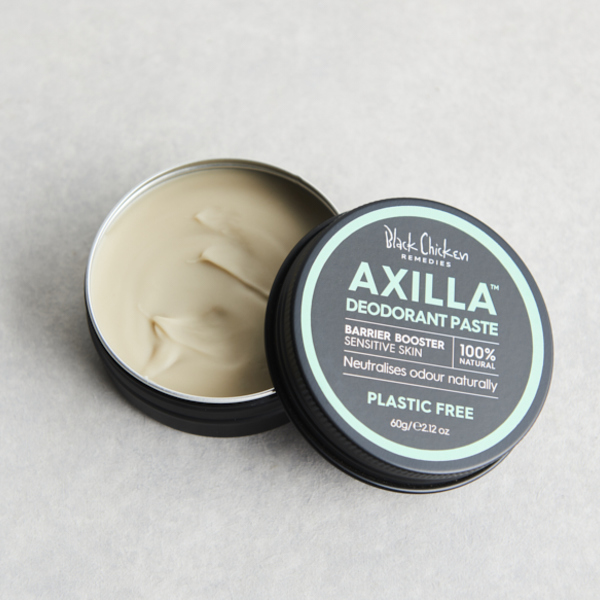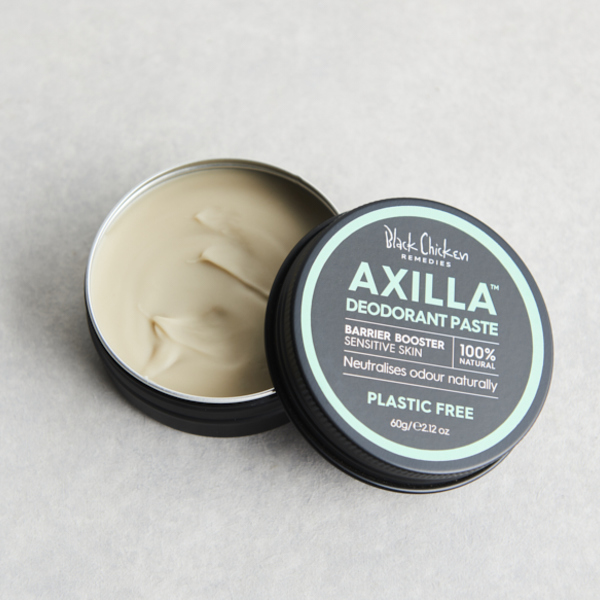 Black Chicken Remedies Axilla Natural Deodorant Paste Sensitive Skin 60g
A bicarb free formula for sensitive skin. Made with natural, organic ingredients and essential oils to target and neutralise odour without chemicals or sweat blockers. Lasts all day. Toxin free.
Designed to last all day and toxin free, the deodorant paste has a unique blend of essential oils to keep you feeling fresh.
• All natural and organic ingredients that effectively neutralise odour
• No harmful Aluminium Salts or compounds
• No synthetic fragrances
• A product that is vegan-friendly, cruelty-free and contains no palm oil
• Is completely invisible upon application

Axilla Deodorant Paste is temperature-sensitive and may soften or even liquefy in hot temperatures or become hard in very cold environments. This does not affect the power and efficacy of the product. Simply pop them in the fridge or a warm place for a few minutes to reverse this change.


Ingredients:
Ingredients:Butyrospermum Parkii* (Shea Butter)Cocos Nucifera* (Coconut oil, Borago Officinalis* (Borage seed oil), Camellia Oleifera* (Camellia Tea oil, Mixed Tocopherols (Vitamin E oil, Vegetable Glycerine* not derived from palm oil, Euphorbia Cerifera (Candelilla wax), Magnesium Hydroxide, Amorphous Silica (Diatomaceous Earth Powder)*, Manihot Esculenta (Tapioca) With essential oils of:Citrus Paradisi (Pink Grapefruit essential oil), Citrus Reticulata (Mandarin essential oil, Pelargonium Graveness (Geranium Bourbon essential oil), Cananga Odorata (Ylang Ylang essential oil)
*Denotes organic ingredients.

Best before: 12 months from opening. 


About Black Chicken: Black Chicken is an Australian owned and operated, 100% natural skincare company that harnesses the power of nature to create remedial products - that means all their skincare has a therapeutic benefit. They don't care about beauty trends – they care about healthy skin, minds and bodies. If you're on the hunt for fruity fragrances or fantastical foams you won't find them at Black Chicken. They're in the business of helping your skin be the best it can be…naturally.
Produced on the unceded lands of the Eora People - Sydney