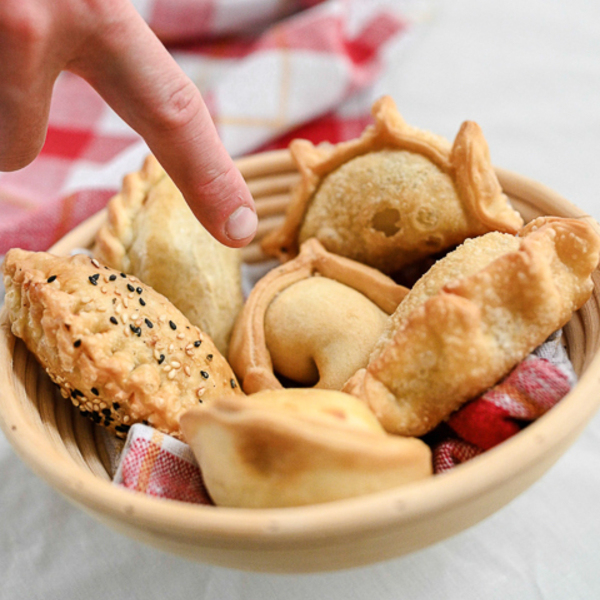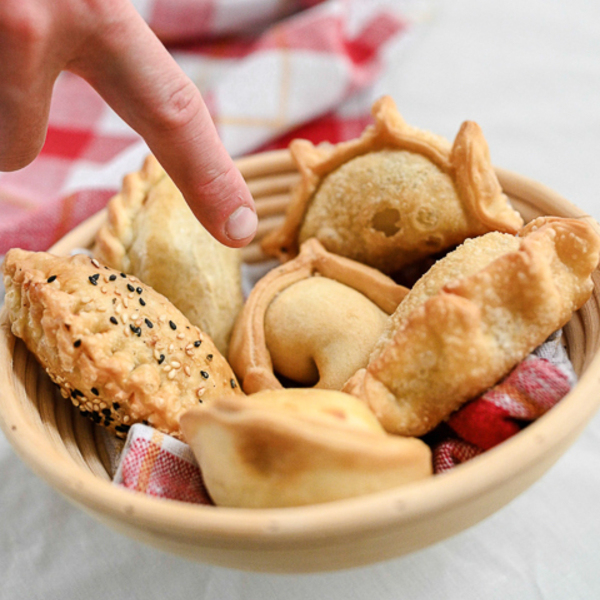 Dan's Empanada Bar Special Mix pack of 10
Hand made authentic Argentinian empanadas ready to eat! These tasty pockets are made to order in North Melbourne with fresh, local ingredients. Mix includes: 3 spinach ricotta, 3 creamed corn & 4 roasted cauliflower. This product has been frozen & will defrost during transit. Store in the fridge & eat within 3 days.
For the full culinary experience dip these in Dan's chimi churri and top with Dan's pickled egglants
To reheat:
Place in a preheated oven at 180°C for 10 - 12 minutes.
Keep refrigerated & consume within 3 days.
Ingredients:
Corn (vegetarian): Corn kernels, brown onion, spring onion, garlic, dry capsicum, dry parsley, creamed corn, plain flour, unsalted butter, water, cumin powder, cheddar cheese, parmesan cheese, nutmeg powder, black pepper, salt, canola oil, extra virgin olive oil, sweet paprika, cornflour, white vinegar.
Spinach (vegetarian): Spinach, brown onion, spring onion, garlic, canola oil, extra virgin olive oil, nutmeg, ricotta cheese, parmesan cheese, dry parsley, eggs, plain flour, salt, water, black pepper, black sesame seeds, white sesame seeds, white vinegar.
Cauliflower (vegan): cauliflower, brown onion, spring onion, garlic, chilli, dry capsicum, salt, black pepper, cumin powder, pine nuts, currants, yellow split peas, coriander, plain flour, nuttelex, water, white vinegar, extra virgin olive oil
About Dan's : Born and raised in Argentina, Dan began his career as a student at the prestigious cookery school, The Blue Trainers in Buenos Aires. Since then, he's cheffed at restaurants worldwide from the Park Hyatt in Buenos Aires to The Intercontinental Hotel in London. Since landing in Melbourne, he's held the reigns of Number 8, Les Boucheries Parisiennes, Oyster, Albert Park Hotel, Livebait, Fenix, Hellenic Republic and Hellenic hotel - a serious resume!
Dan's influence, drive and commitment have transformed Dan's Empanada Bar into what it is today. His business combines the Argentinian flavours he grew up with local Australian sustainable produce.
Made in Woiworung - Melbourne