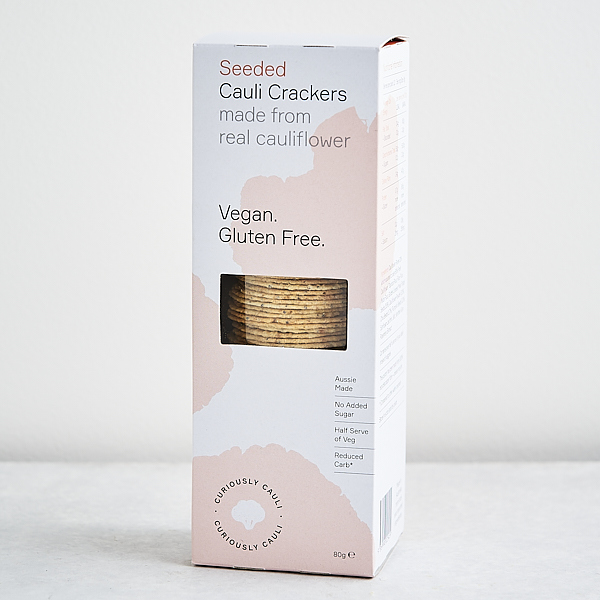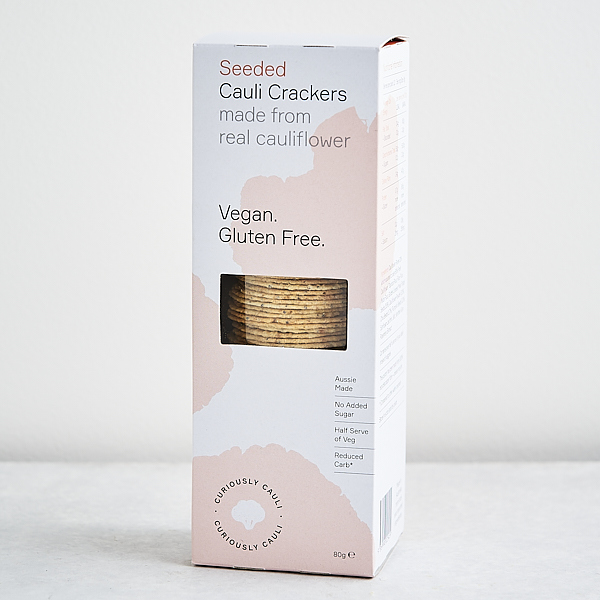 Curiously Cauli Crackers Seeded 80g
These gluten free crackers are made from mixed super seeds which include, chia, flaxseed, pumpkin seed & poppy. They have a delicious earthy & nutty flavour which makes them perfect for everyday munching or entertaining.
Ingredients: Cauliflower Puree 31% (which equates to 50% fresh cauliflower) Tapioca Flour, Rice Flour, Maize Flour, Golden Linseed Meal, Poppy Seeds (3.6%), Cauliflower Powder (3.1%), Chia Seeds (1.7%), Pumpkin Seeds (1.2%), Sunflower Lecithin, Salt, Xanthan Gum, Rosemary Extract.
Bianca Luscombe, founder of Curiously Cauli, has lived with Type 1 Diabetes since early childhood. This shaped her broad knowledge of nutrition and the body, which led her to explore healthier alternatives to high carbohydrate foods.
The humble cauliflower is considered one of the worlds healthiest foods. Unlike many root vegetables, cauliflower does not spike glucose levels rapidly. It's low in carbohydrates and releases energy slowly into the body, which is excellent for diabetes control.
Curiously Cauli's vision is to have a minimal environmental footprint and reduce the amount of vegetable wastage in Australia. Up to 40% of cauliflower crops may not reach the grocery store due to the supermarkets' high cosmetic standards and specifications. As a result, numerous cauliflowers are thrown away to landfill, ultimately affecting the environment/climate.
By using grade 2 cauliflowers and turning them into high quality/value food products, we can greatly reduce vegetable wastage.
www.curiouslycauli.com.au