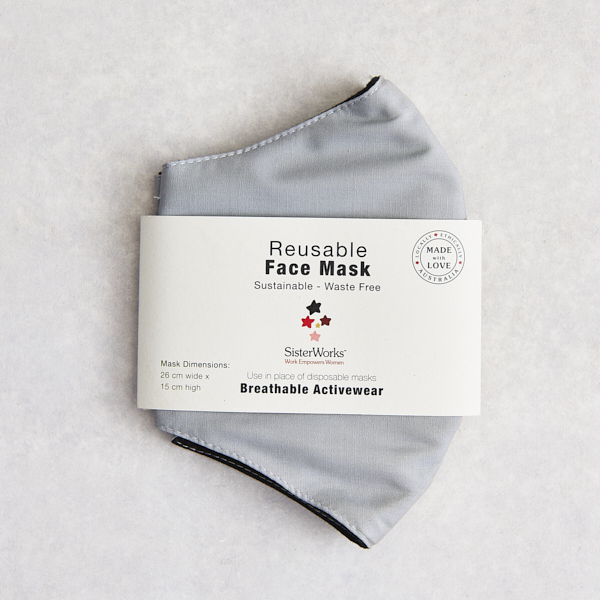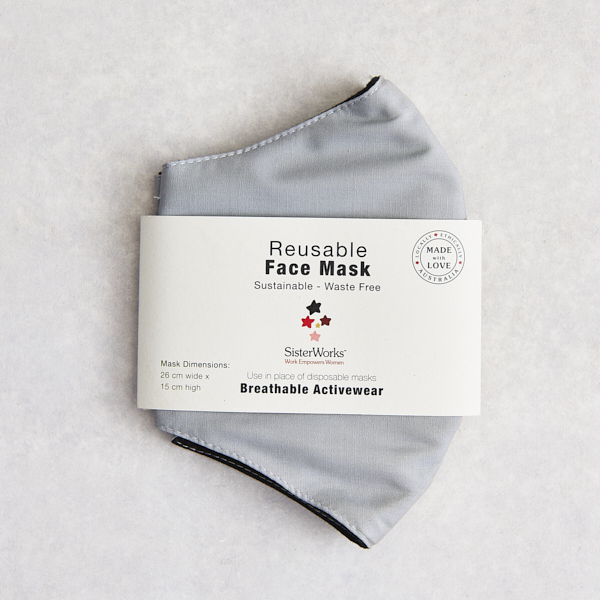 Sisterworks Face Mask Reusable Active Wear Silver x1 CLEARANCE
Down from $19.95
Great for running, cycling & working out. Provide some protection from dust, wind, bugs & other irritants or contaminants in the air. Washable & reusable. Not a medical device. A filter (sold separately) can be inserted.
Dimension: 26 cm wide x 15 cm high
This Face Mask has 3 layers of a mix of breathable fabrics: 2 layers of poly-cotton and 100% cotton to protect your skin (inside layer) that also acts as a pocket to add extra filters.
Elastic can be adjusted by tying a knot in each end to achieve your preferred length. Comfortable design to fit any face.
INSTRUCTIONS:
Gently place the wash bag in the wash machine wash in cold water, wash with similar colours on a gentle cycle, hang to dry or tumble dry on low heat, do not bleach.
Discontinue use of the Masks if worn out or soiled.
Discontinue use if you experience discomfort or difficulty breathing when you use the Masks.
SisterWorks is a not-for-profit social enterprise, based in Melbourne.
Through work and entrepreneurship, SisterWorks' mission is to support women who are refugees, asylum seekers or migrants so they can improve their confidence, mental wellbeing, sense of belonging and economic outlook.
Our vision is an Australia where all migrant women are given the opportunities to become economically empowered.
www.sisterworks.org.au
#workempowerswomen