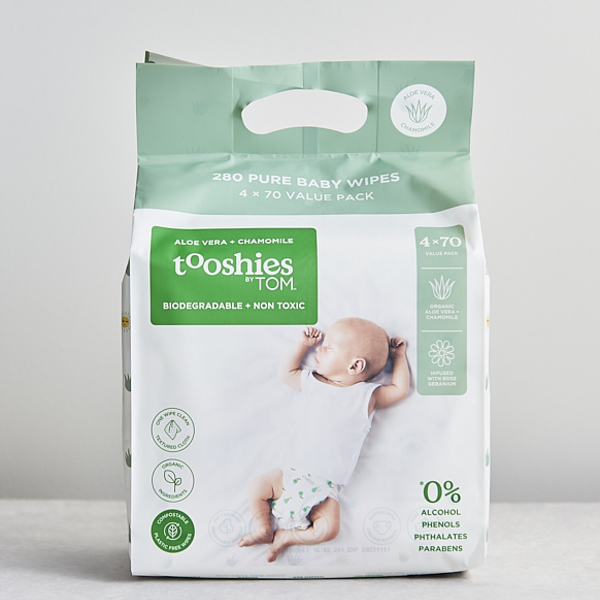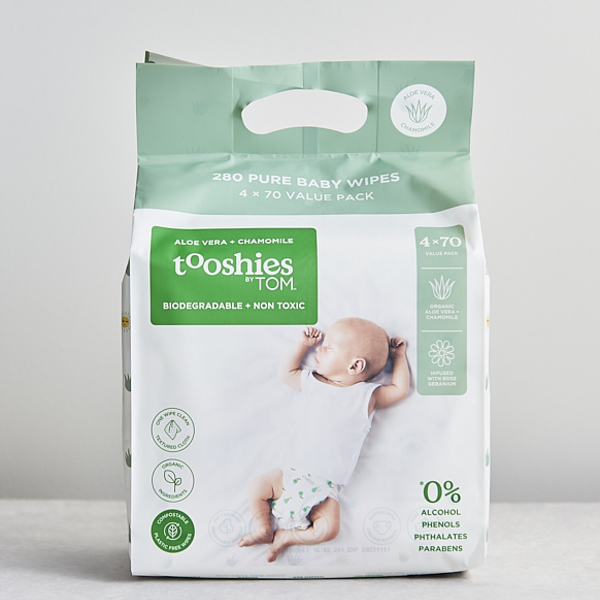 Tooshies Baby Wipes pack of 4
Four pack of 70 wipes (280 wipes).
- 100% biodegradable compostable
- Made with Organic Aloe Vera & Chamomile to soothe delicate skin.
- Hypoallergenic for the most delicate sensitive skin
- No alcohol, phenols, phtalates or parabens.
- Clothes made from FSC certified sustainably harvested plants.
- Textured for a thorough clean.
- Fragrance free, just a pleasant natural essential oil aroma
Ingredients:
Aqua, Glycerin (plant based moisturiser), Silver Citrate (gentle preservative), Sodium Citrate (plant based antioxidant), Citric Acid (plant based stabiliser), Glyceryl Caprylate (naturally derived), Aloe Barbadensis Leaf Juice Powder (Organic), Chamomilla Recutita Flower Extract (Organic), Pelargonium Graveolens Flower Oil (Rose Geranium Oil)
"I believe in contributing to a safer, healthier world, where future generations can grow and play."
Aimee Marks, Founder The TOM Co
The tooshies baby range was birthed soon after Aimee herself became a mum to twins Poppy and Ivy. This was her comeback-from-maternity-leave project. Australia uses a staggering 5.6 million nappies every day (x10 the number of wipes), and this was a grocery aisle that screamed for due attention. Aimee's use of 10,000 nappies in her twins' first 18 months and meetings with her mother's groups lead to the creation of our range of eco nappies and wipes that exist to ensure optimum performance without compromise on the environment.
Aimee is passionate about building a healthier world for her children and future generations to come.
TOM Organic & tooshies by TOM is an Australian owned business that exists because of the local community we exist in. There is a passionate team of women behind the brand who care about the good work that we do. One of the most important aspects of the business is the knowledge that our products have improved the wellbeing of so many women and their children.
Aimee is a Telstra Business Women's Award Alumni, an RMIT Entrepreneurial Mentor, and Veuve Clicquot New Generation Award Finalist.
www.thetomco.com