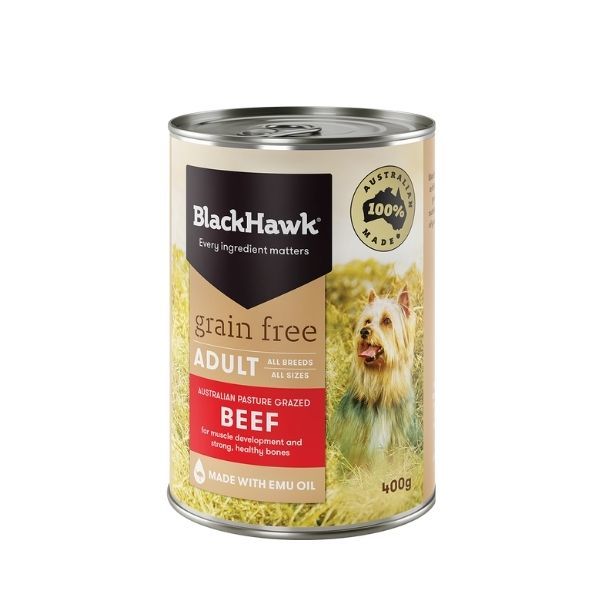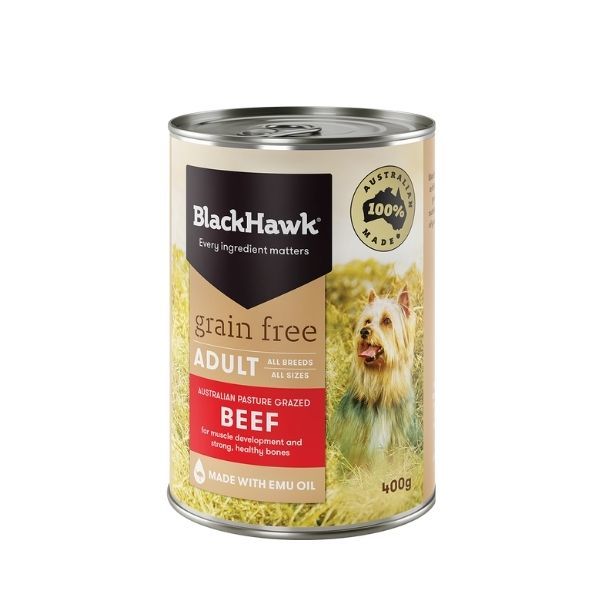 Black Hawk Grain Free Beef Dog Food 12x400g
Black Hawk Grain Free Wet Range is formulated to be used as a complete meal or added to dry food to supplement your dog's meal. It has been tailored for dogs who have allergies to grains that can sometimes be included in other dog foods.
Black Hawk is 100% proudly made in Australia, dedicated to the good health and well being of your pets.
Suitable for small to large breeds at all life stages.
Ingredients:
Beef, Chicken, Carrots, Potato, Gelling Agents, Flavours, Vitamins and Minerals (Choline Chloride, Vitamin E, Pantothenic Acid, Vitamin B1, Vitamin B2, Vitamin B6, Biotin, Vitamin D3, Folic Acid, Vitamin B12, Sodium Tripolyphosphate, Sodium Chloride, Calcium Carbonate, Potassium Chloride, Zinc Sulphate, Magnesium Oxide, Calcium Iodate, Sodium Selenite), Natural Colour, Oils including Emu Oil.
From Black Hawk:
"Everything we do, every product we make, is all about making sure your pet gets everything they need, and nothing they don't.
Real meat, real veggies. No fillers, no nasties. Nothing but the best for our besties.
The real food movement is all about eating food that improves our health, happiness and longevity.
The original Black Hawk recipe was developed when a passionate breeder simply applied this thinking to their dog's diet.
They relentlessly searched for ingredients that had a nutritional benefit and removed all of the ones that didn't.
Other breeders quickly embraced the Black Hawk recipe for success. They could see shinier coats and happier, healthier dogs. The movement grew organically and soon the Black Hawk story was being passed from owner to owner.
Since joining the Masterpet family our commitment to real food is stronger than ever. We still put the same loving care and attention into all we do and nothing but the finest real ingredients into all we make.
When it comes to healthy, happy pets – and even happier owners - every ingredient matters"
100% Australian made.