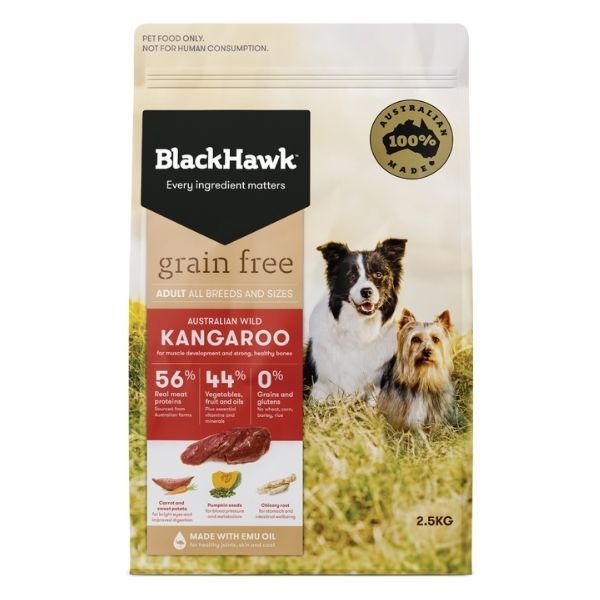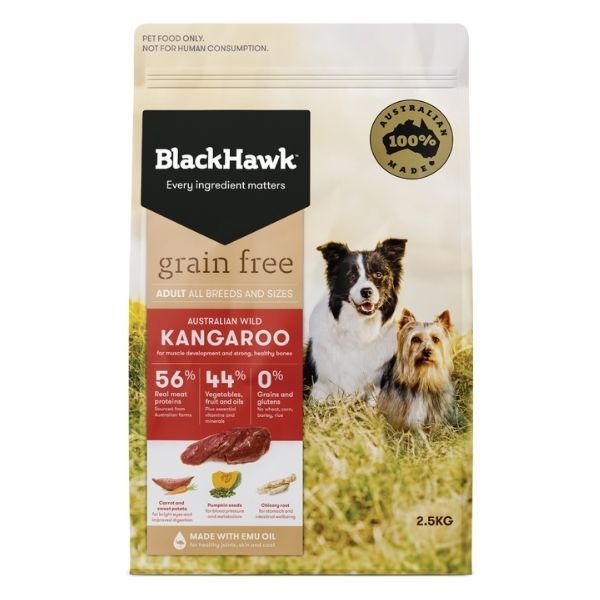 Black Hawk Grain Free Kangaroo Dry Dog Food 7kg
Australian wild kangaroo packs a punch when it comes to protein, iron and omega 3, which are essential for muscle growth. This novel, high protein recipe is complete with vegetables, fruits, oils and essential vitamins and minerals for your dog's wellbeing. A higher protein diet is ideal for dogs prone to dietary sensitivities, or for those who wish to exclude grains from their diet.
56% Real meat proteins (sourced from Australia farms)
44% Vegetables, fruit and oils (plus essential vitamins and minerals)
0% Grains and glutens
No wheat, corn, barley or rice
Ingredients:
Kangaroo Meal, Chicken Meal, Peas, Tapioca, Chicken Fat (naturally preserved with Rosemary Extract, Mixed Tocopherols and Citric Acid), Potato, Sweet Potato, Fish Meal, Chicken Gravy, Sugar Beet Pulp, Essential Vitamins and Minerals (see tables), Salmon Oil, Sunflower Oil, Chicory Root, Di-Calcium Phosphate, Alfalfa, Salt, Egg, Apple, Brewers Yeast, Pumpkin Seeds, Natural Antioxidants, Coconut Oil, Yoghurt Powder, Emu Oil, Blueberries, Cranberries, Dandelion Tea, Parsley, Peppermint Tea, Rosemary Extract, Chondroitin, Glucosamine, Carrots, Yucca Schidigera, Spinach, Kelp, Tomato, Beta Carotene.
From Black Hawk:
"Everything we do, every product we make, is all about making sure your pet gets everything they need, and nothing they don't.
Real meat, real veggies. No fillers, no nasties. Nothing but the best for our besties.
The real food movement is all about eating food that improves our health, happiness and longevity.
The original Black Hawk recipe was developed when a passionate breeder simply applied this thinking to their dog's diet.
They relentlessly searched for ingredients that had a nutritional benefit and removed all of the ones that didn't.
Other breeders quickly embraced the Black Hawk recipe for success. They could see shinier coats and happier, healthier dogs. The movement grew organically and soon the Black Hawk story was being passed from owner to owner.
Since joining the Masterpet family our commitment to real food is stronger than ever. We still put the same loving care and attention into all we do and nothing but the finest real ingredients into all we make.
When it comes to healthy, happy pets – and even happier owners - every ingredient matters"
100% Australian made.