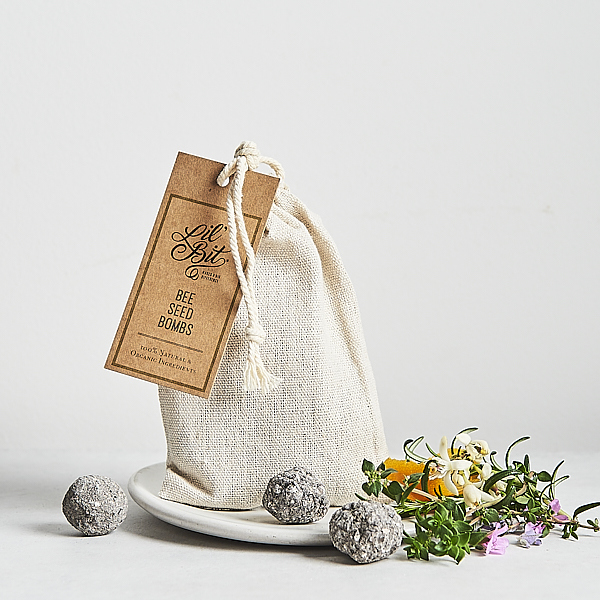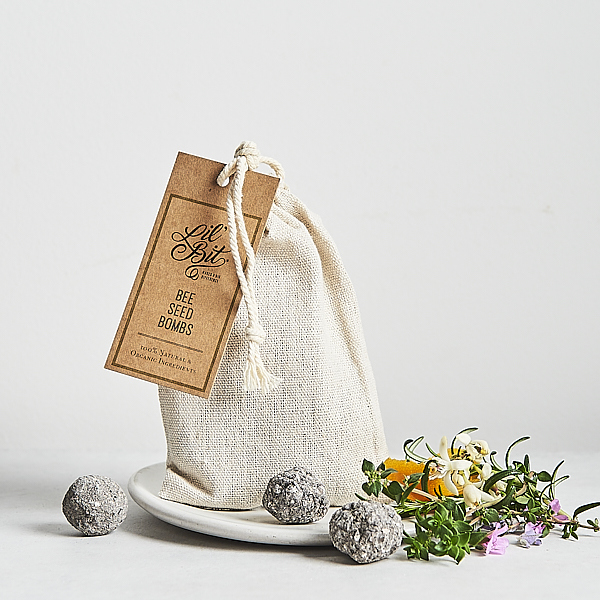 Lil'Bit Bee Seed Bombs pack of 6
Transform a patch of your garden into a beautiful bee-supporting haven. Natural clay protects flower seeds from insects & birds. Seeds will germinate & grow into herbs & flowers providing habitat and food for all pollinators.
Spring is the best time to "plant" them, to mimic what happens when these plants naturally produce seeds.
Bee Seed Bombs should not actually be buried in soil, just placed (or dropped) on the soil surface.
Let nature take it's course, and the seeds will germinate when conditions are good. Be patient - some of these plants may not bloom the first year, but will reward you with more blooms in subsequent years!
Lil'Bee Seed Bombs are sold in bags of 6 (packaged in biodegradable calico bags with a paper tag).
Seed mix: Mixed, organic annuals to be sewn in spring & summer - NON INVASIVE SPECIES. These include:
Calendula, Cornflower, Californian Poppy, Fineflower, Toadflax, Alyssum, Wallflower, Nemophila, Poppy, Marigold African, Chinese Forget-Me-Not, Borage, Evening Primrose, Lavender, Native Violet, Swan River Daisy, Sage, and Bee Balm.
Each ball is approx an inch in diameter and comes in a beautiful, linen, drawstring bag.
Safe to spread all over Australia - Li'l Bit has written authority from each state.
A Lil' Bit makes a big difference. For Founder, Liz, choosing to keep bees at their home on Phillip Island was a life-changing decision - falling in love with bees illuminated the broader and fragile ecosystem we are a part of, and the toxic effect on the natural world of unchecked and needless chemical use in our daily lives. Her Lil'Bit range of homemade, small-batch cleaning products are all created in her own kitchen, and proudly say no to a long list of nasties.
We're excited to share them with you - Find out more at www.lilbit.com.au
Made in Australia.