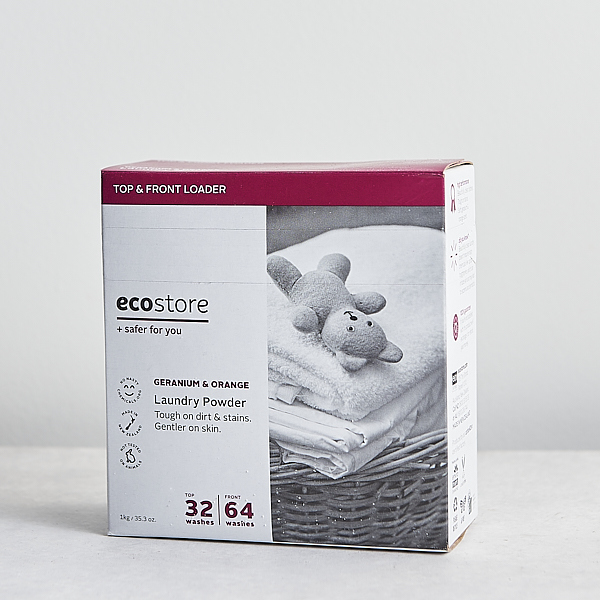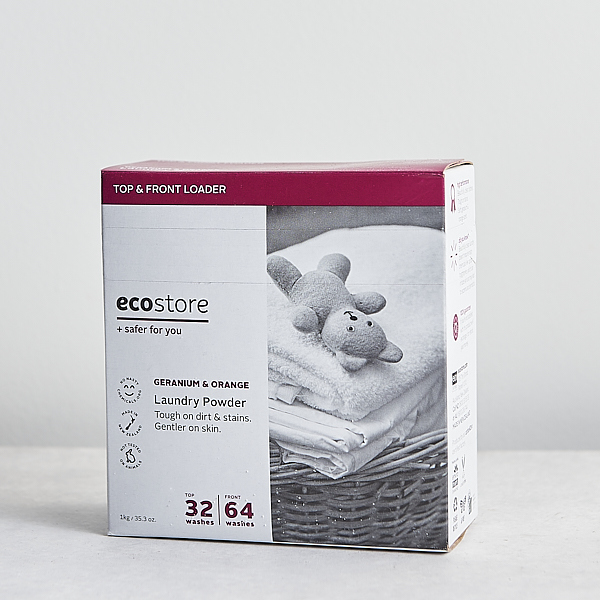 Ecostore Laundry Powder Geranium Orange 1kg
Gentle but effective formulation, plant based, with no bulking agent or fillers. Waste water can be used safely on gardens. Up to 32 washes top loader & 64 front loader
Reduce your exposure to potentially unhealthy chemicals like optical whiteners, enzymes and artificial fragrances. Kinder to your skin and a safer option for those with sensitive skin or allergies. Kinder to the environment. Lowest total alkalinity in waste water of any laundry powder in Australasia (Lanfax Laboratories 2009). A low total alkalinity score means that the grey water (or waste-water) from your washing machine can safely be used on your flower gardens, lawns and trees and is also better for overall health of your septic tank. Contains no optical brighteners, lipase amylase protease, synthetic perfumes, phosphates.
Use a little, save a lot. Ecostore products are formulated with the least amount of chemicals at the lowest concentrations to get the best results. There are no bulking agents or fillers that give a misleading idea of value and the concentrated goodness means you don't need to use as much, saving you money overall.
Malcolm and Melanie Rands started ecostore in the basement of their home in a permaculture eco-village in New Zealand in 1993. As keen permaculturalists they had been using sustainable and organic gardening practices on their property but realised they were still being exposed to a variety of toxic chemicals through the cleaning and body care products they were using. As a result of being alarmed at the number of nasty chemicals used in everyday household products; ecostore was born.
For more information check out:
http://www.ecostore.co.nz