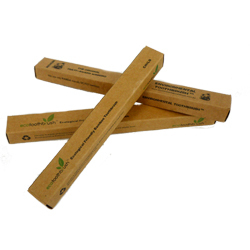 Toothbrush - Adult (Medium)
$3.45
The bristles of Eco Toothbrushes contain charcoal reactive ions, which can easily adsorb the dental plaque on the surface of teeth, keeping them healthy and white. Ultrafine staggered ends of the charcoal enhanced bamboo bristles can go deep into the gaps between the teeth for deep cleaning. The super absorption capacity of the soft bamboo bristles also takes care of gums and protects them from injury while brushing.
Environmental toothbrush handles are made with MOSO bamboo, which is a sustainable resource, is one of the fastest growing bamboo's in the world and is Panda friendly, as they don't like to nibble on this particular variety.
Ecotoothbrushes do not use plantation Bamboo, but rather give farmers an income from otherwise non-arable land. And yes, they are manufactured in China, but they are fairly traded, which means everyone gets a fair go.