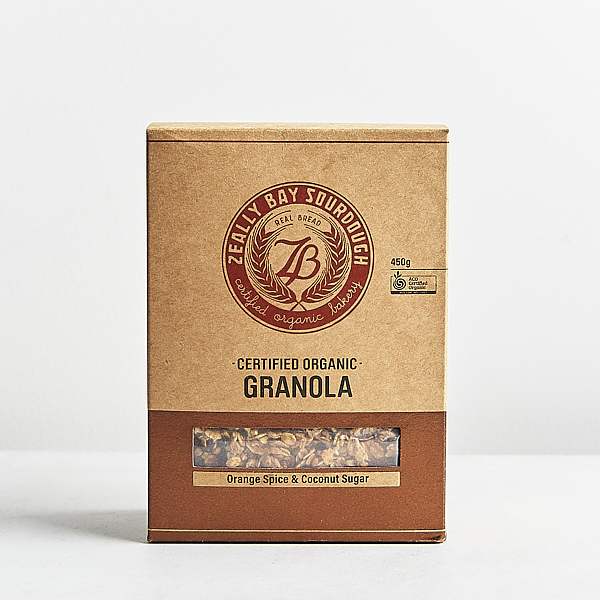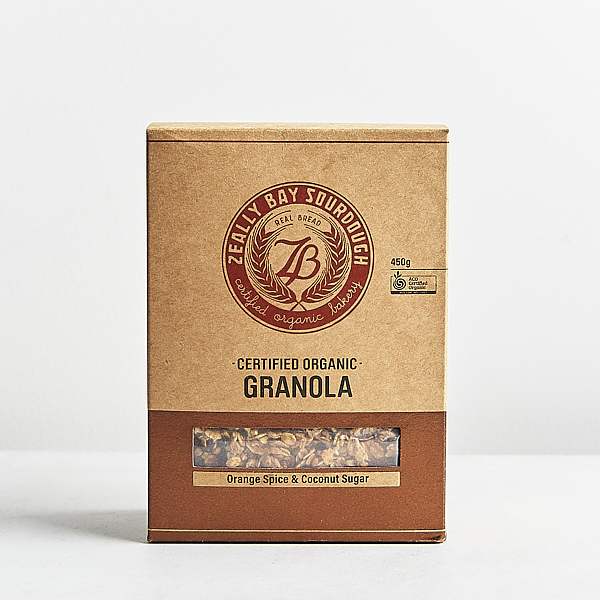 Zeally Bay Granola Orange Spice & Coconut Sugar 450g
Made with organic rolled oats, whole almonds, sulphite-free dried fruits, Ayurvedic-quality spices & hand-cut orange rind. Free from oils & refined sugars, sweetened with molasses & coconut sugar. Baked until caramelised & golden. Recyclable bronze-foiled kraftboard box with certified home compostable inner bag.
All ingredients are sourced from ethical agriculturists who nurture their soils, the planet and us.
Ingredients: Rolled oats*, brown rice syrup*, almonds*, filtered water, buckwheat kernels*, biodynamic sultanas, coconut sugar*, molasses*, coconut flakes*, currants*, rolled gold linseed*, orange rind*, spices*, natural sea salt
*Denotes certified organic ingredients
About Zeally Bay: In 2007, the Farnan's realised a long-held ambition and founded Zeally Bay Sourdough, as an extension of the philosophies they had developed around organic and fermented food during the 80's/90's.
Zeally Bay Sourdough became Victoria's first and only 'certified organic sourdough bakery' hand-making 100% certified organic breads and muesli.
The coast of Torquay became the home of Zeally Bay Sourdough, allowing the family to continue their passions in life and work - surfing, home organic gardening, good food and of course, great bread!
Made on Gulidjan Country - Torquay