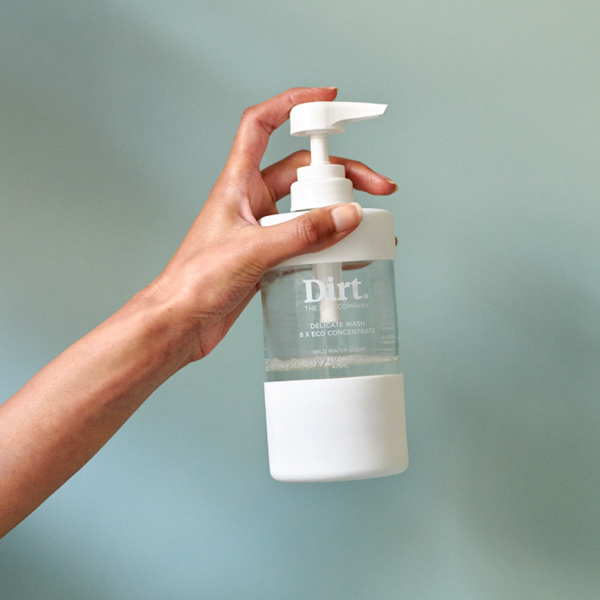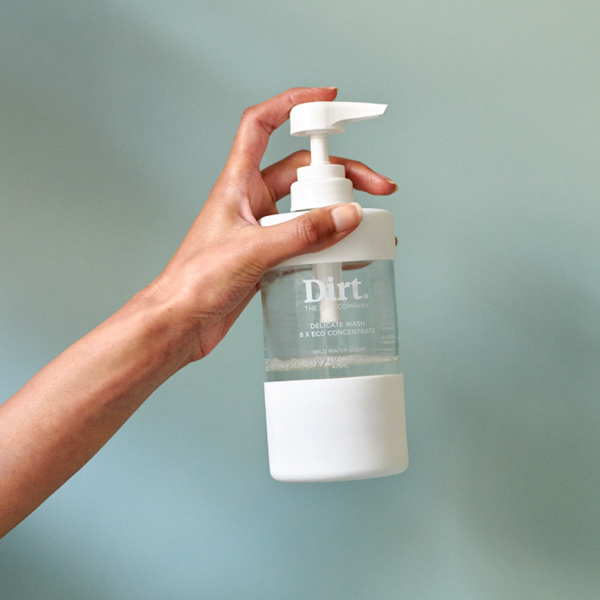 Dirt Laundry Delicate Detergent Pump 33 loads
The most perfect detergent for wool, silk & other precious fabrics.
No artificial scent or dye. 100% biodegradable ingredients. Refillable pump glass bottle. Vegan cruelty free. Australian made.
A little goes a long way. 33 loads, 475ml
We pick up empty refill pouch for Dirt to reuse.
The beautiful glass bottle is protected by 2 drop-proof silicone sleeves, which are 100% non-toxic & BPA, BPS, PVC free.
50% of profit donated to The Ocean Cleanup.
Ingredients: Nonionic Surfactants, Anionic Surfactants, Alkaline Salts, Organic Enzymes, Natural Fragrance, Preservatives.
We're an idealistic lot, who believe in a new kind of clean.
WE ARE ON A MISSION TO MAKE PRODUCTS THAT DO LESS HARM, A BETTER CHOICE FOR EVERYONE.
The Dirt Company was founded on the belief that we could make sustainable household products, that work, something people could fall in love with.
We took a less, but better approach to product design. We formulated a product using pure and powerful ingredients and bare minimum packaging, to deliver a innovative, useful, and thoughtful product, that's good for the earth, and will sit damn pretty on your washing machine.
Our previous bottles were made from Aluminium. Aluminium is infinitely recyclable and a great sustainable material.
Unfortunately, it doesn't last forever. We learnt this as our very first bottles turned about two and a half. A couple of them, particularly those that had been sitting in extreme heat, or those that had been dropped or damaged, were subject to degradation.
If you want to hold onto your Aluminium bottles and keep using them, go for it! We know how easy they are to fall in love with.
If your Aluminium bottle has been dropped, damaged or subject to extreme heat, get in touch with us at: contact@thedirtcompany.com.au and we will look into this for you.
When making the switch, please keep in mind that your Aluminium bottle is recyclable curb side. Just make sure you twist the pump and split the spring from the pump then pop all the pieces in recycling.
Finally, to all our customers, we just wanted to say thank you.
Thank you for all the feedback and suggestions that led us here. We're trying to create the best, most sustainable products, for you AND the planet. We're sure we're just at the very beginning of our journey.
We really couldn't do any of it without you.
https://thedirtcompany.com.au/