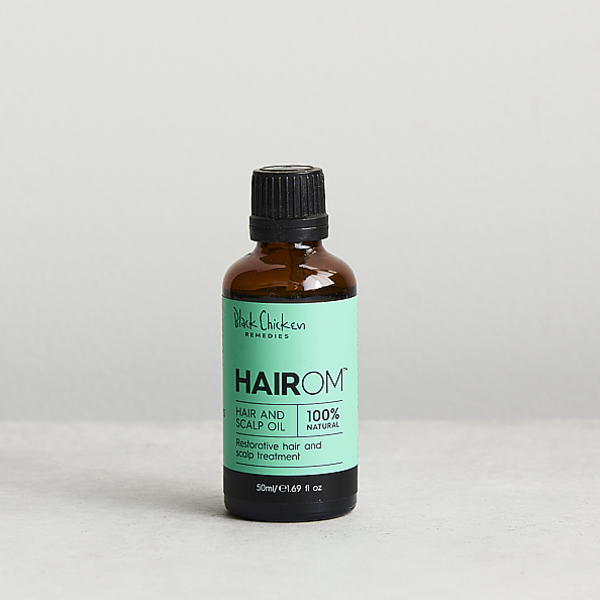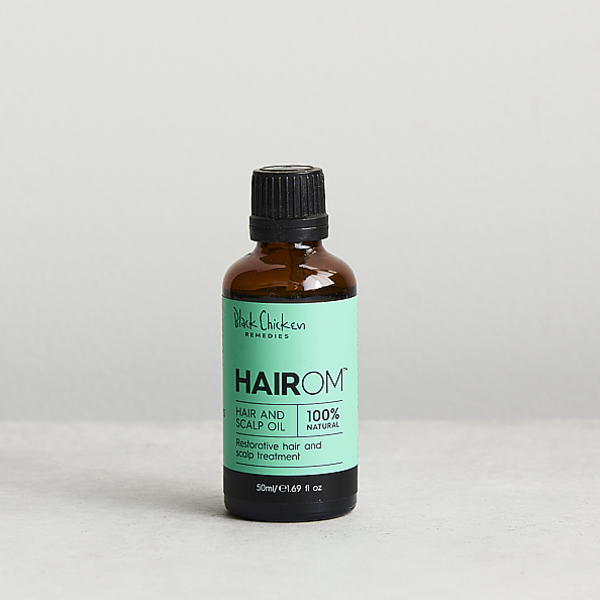 Black Chicken Remedies HairOM 50ml
On special down from $49.95
Restorative Hair & Scalp Treatment.
An award-winning nourishing essential oil remedy (with Argan oil) for hair growth, hydration & soothing your scalp with nutrients to provide healthy, shiny locks.
Vegan, cruelty free, with no added water or fillers.
Ingredients:
Argan Oil – Contains Vitamin E (lots of it), Omega 3, 9 fatty acids and antioxidants, all known to nourish moisturise and protect your hair from heat. It's also wonderful at reducing brittle and fizzy hair, leaving it soft and manageable.
Sesame Oil – It's not just delicious in Asian dishes, it's also a preventer of premature grey hairs and colour loss. Just like sunscreen, sesame oil is a natural sun-blocking agent. It helps prevent potential damage during extended sun exposure. By improving scalp blood circulation it also promotes hair growth and is highly penetrative nature means it helps heal chemical damage from colouring.
Hemp Oil – Contains fatty acids like Omega 6 and Omega 3. These fatty acids help stimulate hair growth. The proteins in hemp oil help in the formation of keratin. Hemp oil also helps improve the blood circulation to the scalp.
Jojoba Oil – is high in vitamins A, E and D and is great for all hair types. It helps repair damage to your hair and promotes new, healthy hair growth.
Vitamin E – An antioxidant, when applied to your scalp it helps reduce inflammation and repair damage to the follicles – healthy follicles encourage hair growth.
Argania Spinosa Kernel Oil*, Sesamum Indicum Seed Oil*, Cannabis Sativa Seed Oil*, Simmondsia Chinensis Seed Oil*, Tocopherol (and) Helianthus Annuus Seed Oil, Lavandula Angustifolia Oil*, Cedrus Atlantica Bark Oil, Rosmarinus Officinalis Leaf Oil, Pelargonium Graveolens Flower/Leaf/Stem Extract, Salvia Sclarea Oil, Coumarin**, Linalool**, Eugenol**, Limonene**, Citral**, Citronellol**, Geraniol**
Certified Organic ingredients*
Naturally occurring in essential oils**
Organic Argan oil hydrates, reduces frizz and protects hair from heat damage
Our formula promotes blood circulation and feeds nutrients to the follicles, encouraging hair regrowth and easing dry scalp and thinning hair which are common symptoms during menopause
Blended essential oils reduce the growth of grey hair, nourish the scalp and promote shiny, healthy hair
Soothes scalp irritations and combats bacterial and fungal skin disorders
HairOM™ is rich in fatty acids, omega 3 and a range of precious essential and botanical oils that not only restore and hydrate each strand of hair but enrich your scalp, promoting blood circulation and regrowth of new hair. Our formula includes Argan oil, which has been revered for centuries for deeply moisturising, reducing frizz and protecting hair from the heat. Rosemary essential oil has been scientifically proven to prevent premature greying and is one of the top essential oils for promoting hair thickness and growth, whilst Vitamin E balances natural oil production and is a first line of defence against those visible signs of ageing.
HOW TO USE:
Apply 1-2 teaspoons of oil into your palm and massage into your scalp before working the rest into your hair through to the ends.
Wrap your hair in a towel or tie in up for one hour or more if possible.
Wash out any unabsorbed treatment with shampoo.
For optimal results use 2 times a week.
Made in Australia
www.blackchicken.com.au