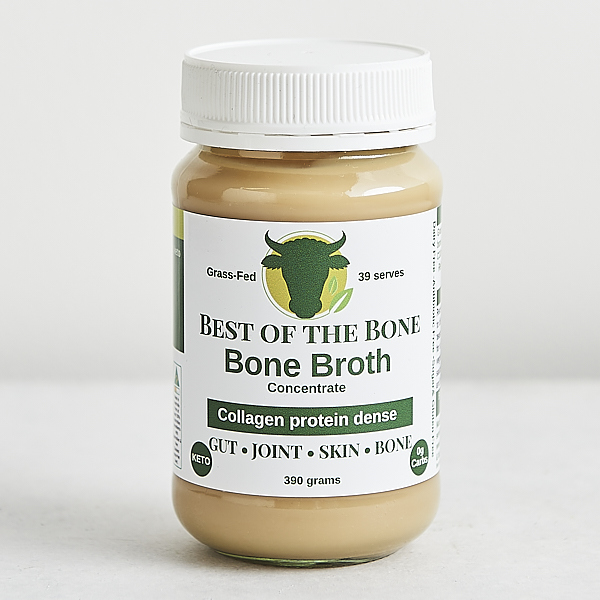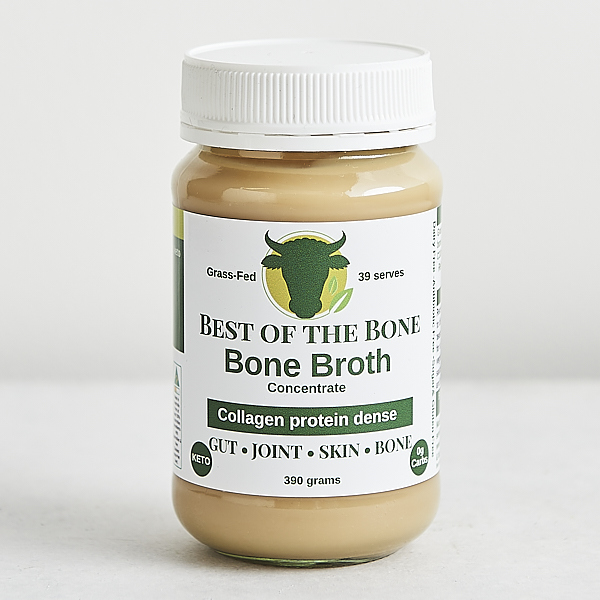 Best of the Bone Broth Concentrate Original 390g
Grass fed, pasture raised, 40% collagen protein & 20 amino acids -highly concentrated - critical components for connective tissues, muscles & bone health. Play a major role in gut health. FODMAP friendly, GAPS & Paleo diet recommended. 30-35 serves per container, less than $1 per serve.
Easy to use: Add a tablespoon to a mug of hot water for a nutritious broth (add spices & veggies for taste) or use as a base for sauces, soups, risottos etc
Ingredients: Grass-fed certified Australian & NZ beef leg bone extract slow cooked for 48hours, evaporated sea salt
Is Best of the Bone a dehydrated powder?
No. Its a 'living' food.
How is Best of the Bone different than my broth?
You might make your broth by putting your bones on the simmer for 20+hours.
Best of the Bone is made using only the thigh bone (high in marrow). We pulverise the bones and then pressure cook with no oxidation. The bones become the gelatine, ensuring the highest mineral & richest marrow content (chefs love the marrow : )
We then evaporate any leftover water. Leaving only a rich, gut-healthy golden gelatine.
How do I store?
Preserved with evaporated sea salt it will last 12months. After opening store in cool place or refrigerate.
Why is Best of the Bone a creamy white when hot water is added?
Due to our process, with the good fats left in, high in marrow, not oxidised, and high in minerals and chondroitins.
Studies have found the gelatine, collagen protein & the amino acids found in "Best of the Bone" can
reverse or revitalise conditions such as:
Arthritis and osteoporosis - useful in the treatment & even reversal of both.
Gut health - improves & repairs conditions related to leaky gut, irritable bowel, colitis, GERD,
& more.
Immune System - stimulates production of immune cells.
Skin health - increases skin elasticity & reduces wrinkles!
For more info, visit www.theherbaldoctors.com.
Made in Australia.