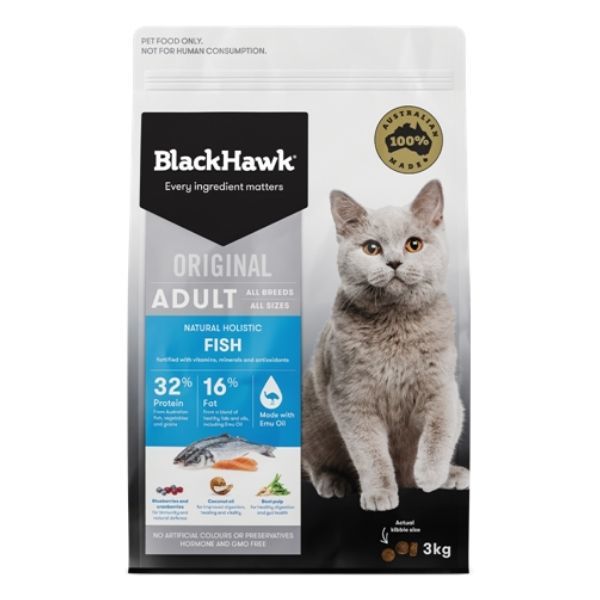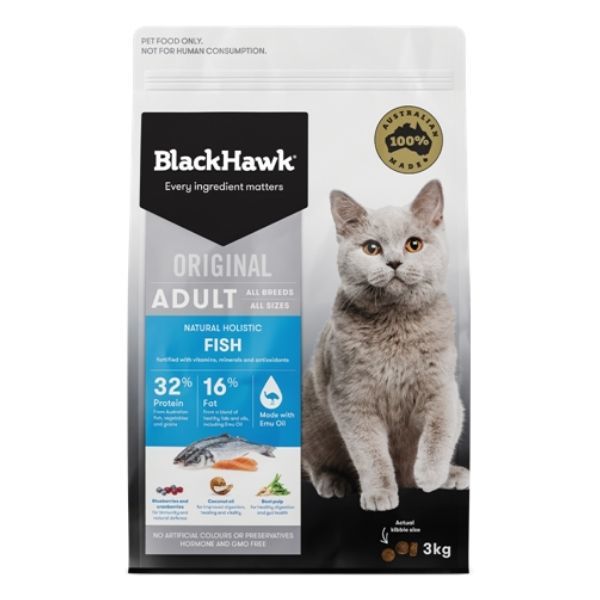 Black Hawk Fish Cat Food 1.5kg
This highly palatable, novel blend of fish including salmon offers a great flavour variety for your companion. Rich in omega 3 fatty acids for healthy skin and coat, Black Hawk use oats and rice which are good sources of energy and easy to digest. Ideal for cats with sensitive stomachs.
32% Real proteins (from Australian fish, vegetables and grains)
High quality fats (from a blend of healthy fats and oils, including emu oil)
Ingredients:
Fish Meal, Salmon Meal, Rice, Vegetable Protein, Oats, Chicken Fat (preserved with Mixed Tocopherols [source of Vitamin E], Rosemary Extract, Vitamin C), Beet Pulp, Canola Oil, Salt, Egg Powder, Chicory Root, Flaxseed, Fish Oil, Pumpkin Seed Powder, Alfalfa, Probiotic (Bacillus Coagulant), Natural Antioxidants, Coconut Oil, Yoghurt Powder, Emu Oil, Blueberries, Cranberries, Rosemary, Essential Vitamins & Minerals.
From Black Hawk:
"All our Black Hawk products are about naturally nourishing our cats and dogs from the inside out. Every ingredient that makes it into our recipes has a nutritional purpose, so you'll never find wheat, corn, soy, gluten, artificial preservatives, colours, flavours or any unnecessary fillers in Black Hawk.
The real food movement is all about eating food that improves our health, happiness and longevity.
The original Black Hawk recipe was developed when a passionate breeder simply applied this thinking to their pet's diet.
They relentlessly searched for ingredients that had a nutritional benefit and removed all of the ones that didn't.
Other breeders quickly embraced the Black Hawk recipe for success. They could see shinier coats and happier, healthier pets. The movement grew organically and soon the Black Hawk story was being passed from owner to owner.
Since joining the Masterpet family our commitment to real food is stronger than ever. We still put the same loving care and attention into all we do and nothing but the finest real ingredients into all we make.
When it comes to healthy, happy pets – and even happier owners - every ingredient matters"
100% Australian made.