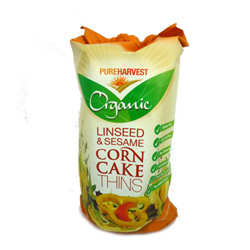 Pure Harvest Corn Cakes Linseed & Sesame 150g
$3.45
Gluten free, cholesterol free and 97% fat free. Just like the natural cakes they are crisp, crunchy and light, with the full benefits of organic corn. The addition of sesame and linseed adds even more flavour, as well as protein and fibre. Enjoy them topped with your favourite foods for a light meal, use them as the base for a bruschetta variation, or spread them with jam or your favourite nut butter for a quick snack.
Australian made (from local and imported ingredients, cholesterol free, fructose free, GMO free, gluten free, lactose free. No artificial colours, flavours or preservatives. Suitable for vegetarians and vegan.
Pureharvest was established in 1979 in Prahran, Victoria and became one of the largest suppliers of seeds and grains to the bakery trade in Victoria. They were one of the first companies in Australia to import and distribute soy milk and rice cakes in the country and played a key role in financing the first organic rice crop grown in Australia.
www.pureharvest.com.au