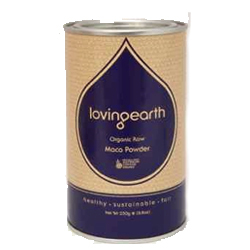 Raw Organic Maca Powder From Junin, Peru. Grown at 4,100m above sea level in the Andes, Maca is the energising and revitalising superfood of the Incas, where it is revered for its aphrodisiac qualities and wide-ranging benefits to the hormonal system.
Loving Earth is based on the philosophy that the earth is a living organism, a concept that James Lovelock popularised with his "Gaia theory". The very same idea is at the heart of many indigenous cultures around the world. This philosophy creates an immense respect for our environment as well as our own physical bodies as part of that environment.
Eating foods in their pure, minimally processed states, foods that are grown organically in a sustainable way, is one of the most significant ways in which we can live this philosophy. Not only are we nurturing our own health and wellbeing but we are also nurturing the health and wellbeing of our planet.