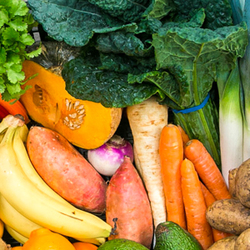 - Mixed Basics Box
$35.00
A good value mix of seasonal fresh organic fruits & veg from the market. All your organic fruit & veg staples in 1 box, top up as you need in our fruit & veg section.
Check "What's in the box this week" in red on this page for more info. Suitable for 2 people for 1 week.
Our produce selection changes each week.
What's in the box this week
Apples, Bananas, Broccoli, Carrots, Cauliflower, Onions, Oranges, Potatoes, Pumpkin, Silverbeet, Zucchini
Note: This is a general guide and box contents are subject to change due to availability