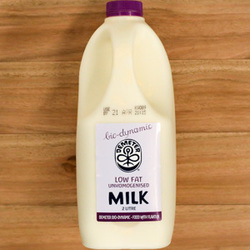 Demeter Milk Low Fat Biodynamic - 2L Great Value Buy
$6.10
A beautiful organic bio-dynamic low fat unhomogenised milk that tastes fresh & natural. NO artificial fertilizers or synthetic chemicals, GMO'S or other additives.
*please note - if Demeter low fat milk 2L becomes unavailable, we may substitute with Schulz low fat milk 2L
Demeter bio-dynamic milk is sourced from the Peterson and Pell families from the Murray & Goulburn Valley, Northern Victoria.
Since 2009, when Demeter Milk began with the Peterson family, the quality of the milk was instantly recognised for it's purity of flavour and excellent testing results- this being reflected in the extended shelf life.
The cows come from a mixed herd with a strong Jersey influence, and this combined with the Petersons' and Pells' experience as certified Demeter bio-dynamic dairy farmers (36 years) makes Demeter Milk an outstanding local product.
At the Dairy Industry Awards of Australia 2013, The Low Fat received best scoring 'Certified' milk in Australia, and the Full Cream received best scoring Victorian 'Certified' milk in Australia.
Very Simply, Bio-dynamic is recognised as an enhanced organic farming method.
Demeter certified bio-dynamic farms practise environmentally safe biological methods to develope structured, humus rich soil which is essential for the developement of vibrant plants and healthy animals.
The farm works under strict bio-dynamic standards, and is certified under the International Trade Mark Demeter by the Bio-dynamic Research Institute, which has been registered in Australia since 1967, and is your assurance of a quality bio-dynamic product.
*please note - if Demeter becomes unavailable, we may substitute with Schulz