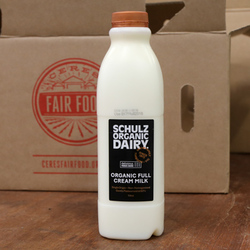 Schulz Milk Full Cream - 1L
$3.60
Natural, pure organic milk made from a single herd farm. Unhomogenised with a layer of cream on top, pasteurised at the lowest legal temperature, this is real milk with real flavour.
The cream content will change with the seasons & different types of feed for the single herd Fresian & Jersey cows.
Schulz products are truly pure, simple and delicious. Processed right on the farm in Timboon, in small batches with great care.
Schulz also makes beautiful yoghurt & cream.
Schulz Organic Farms is in timboon, on 832 acres of very fertile land in the South West of Victoria.
Since 1971, 3 generations of Dairy Farmers have been working towards the most sustainable farm & delicious products possible.
www.schulzorganicdairy.com.au