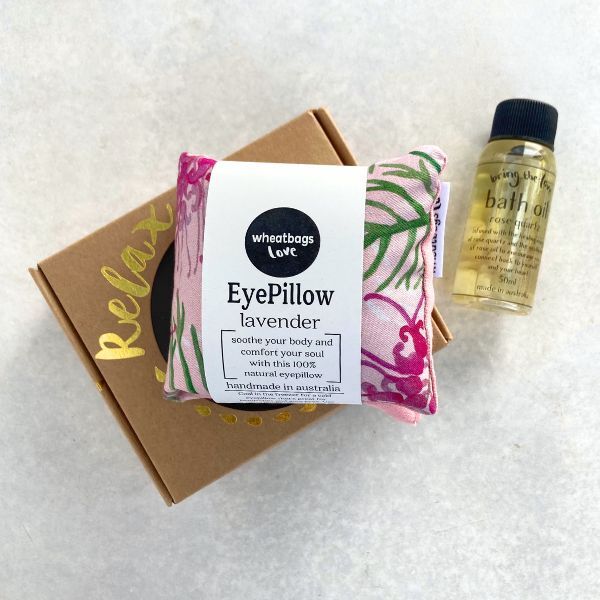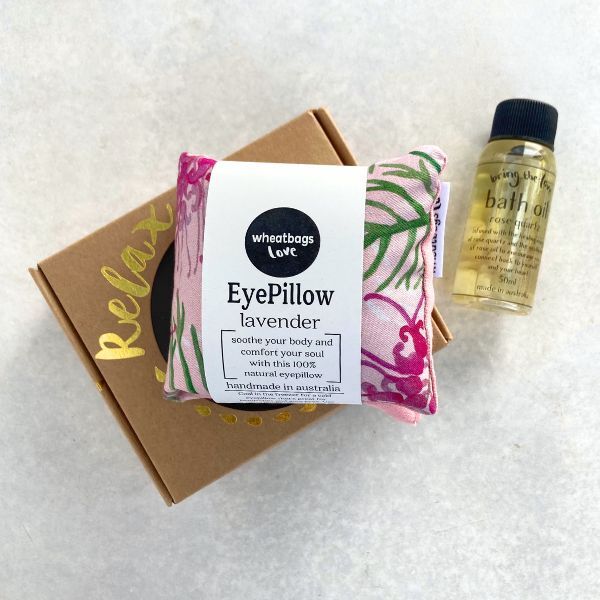 Wheatbags Love Relax Give Pack Grevillea
On special down from $39.95
This Relax grevillea gift pack includes a lavender eye pillow and rose quartz bath oil (50ml) all wrapped up in a beautiful box. The eye pillow and bath oil are handmade from all natural and organic materials. Gift box included.12x12cm.
Bath oil: The bath oil is made from the nourishing and skin softening oils of apricot kernel and macadamia and scented with the loving essential oils of rose, rosewood, jasmine, orange and vanilla.
How Eyepillows Work: With eyepillows it's all about the weight on the eyes. Having weight on your eyes will help ease a headache and migraine and it's what is very effective for sore eyes too. This is why you don't need to heat or cool your eye pillow as it will work very well just at room temperature.
The eye pillow is also great for helping you relax and get to sleep as the weight on your eyes helps to tell your brain to stop looking for stimulus through the eyes (even though they are closed!) and this in turn slows a racing mind that is thinking about all the events of the day and helps you ease off into sleep. You may have used one at a yoga class and felt how relaxing they are!
Having a cold eye pillow (see below about how to cool it) is also very lovely on sore eyes or when you have a headache or migraine.
How To Use: Use at room temperature by lying down and placing the eye pillow over your eyes. This is useful for sore eyes, headaches, migraines, and relaxation.
To cool your eye pillow place in the freezer until it is cold (about 30min) and then place over your eyes while lying down. This is useful for sore eyes, headaches and migraines.
To warm your eye pillow place in the microwave and heat on high for 30-60secs. You can then use it anywhere on your body that would like some heat. Avoid placing anything too warm on your eyes, unless directed by your eye specialist to use gentle heat on your eyes for conditions like dry eye. A warm eye pillow can be lovely on sore sinuses too.
About Wheatbags Love: Wheatbags Love was founded in 2014 by Kim Stark. Back in the day when she was a remedial massage therapist she got a little frustrated by how ugly your standard wheatbag was. What was with all the corduroy in bad colours? Determined not to sell those in her clinic she started making her own. Then she started screen printing her own fabric and selling to other similarly minded clinics and gift stores… 6 years later her love of such a wonderful, helpful product that brings such joy to people hasn't dimmed.
The team use only natural and organic materials that are biodegradable. We source locally as much as we can and use recyclable packaging. We hate waste so we only cut shapes out of our fabric that will leave minimal waste. Everything is made in our local studio with well-paid staff so we know 100% that our product is ethically manufactured.
Made on Woiwurrung Country - Melbourne