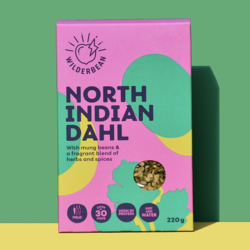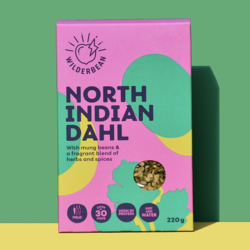 Wilderbean North Indian Dahl 220g
New!
An irresistibly fragrant Indian dahl combining cumin, garlic, coriander and turmeric to bring mung beans from shy sidekick to the main hero of your meal. High in protein, iron & fibre, mung beans are also tummy-friendly & incredibly satisfying. So simple to prepare - just add water and simmer for 30 minutes.
Serves 2 as a main, or 4 as a side.
Wilderbean's packaging is made from post-consumer recycled fibre, inner liner home compostable.
Ingredients: Split mung beans, dried garlic, salt, cumin, dried onion, coriander seed, turmeric, clove, coriander leaves
Allergens: May contain traces of peanuts, soy and gluten
About Wilderbean Sally & Ingrid created Wilderbean to help more Aussie grown legumes into the hearts & pantries of Australians. It's no secret that chickpeas & mung beans are downright good for the body & kind on the planet as well. The idea is to make it easier & tastier for people to incorporate these protein powerhouses into everyday meals, and with sustainable packaging too!
Made in Australia with 90% Australian ingredients