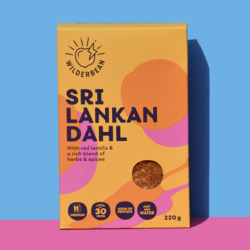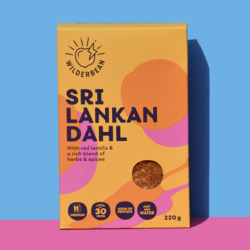 Wilderbean Sri Lankan Dahl 220g
This is a ginger, cumin & chilli-infused dahl overflowing with flavour & a potent pack of nutrition thanks to tiny but powerful red lentils! Rich, luscious & the ultimate match to rice or naan bread.So simple to prepare - just add water and simmer for 30 minutes
Serves 2 as a main, or 4 as a side.
Wilderbean's packaging is made from post-consumer recycled fibre, inner liner home compostable.
Ingredients: Split red lentils, dried garlic, salt, cumin, dried onion, coriander seed, turmeric, chilli, ginger, mustard seeds, fennel, seeds, black pepper, cardamom.
Allergens: May contain traces of peanuts, soy & gluten
About Wilderbean Sally & Ingrid created Wilderbean to help more Aussie grown legumes into the hearts & pantries of Australians. It's no secret that chickpeas & mung beans are downright good for the body & kind on the planet as well. The idea is to make it easier & tastier for people to incorporate these protein powerhouses into everyday meals, and with sustainable packaging too!
Made in Australia with 90% Australian ingredients