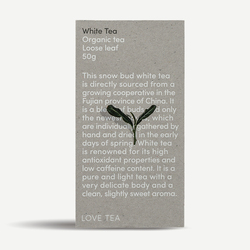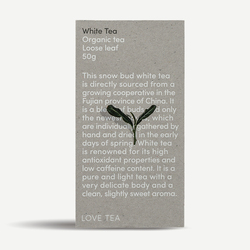 Love Tea White Loose Leaf 50g
This snow bud white tea is directly sourced from an organic growing cooperative in the Fujian province of China. It is a pure & light tea with a very delicate body & a clean, slightly sweet aroma. White tea is renowned for its high antioxidant properties & low caffeine content.
We fairly source this tea directly from the growing cooperative in this region.
We are dedicated to donating 1% of annual revenues to a range of environmental organisations as part of our commitment to 1% For The Planet. We believe it is our environmental responsibility to reduce our negative impact on the environment and continue to offer our support to not-for-profit organisations whose sole motivation is to solve the environmental crisis.
Ingreditents: Snow bud white tea (camellia sinensis)**
*Certified organic
*Fair trade ingredients.
Packaging:
The Love Tea Box is made from post-consumer recycled cardboard and vegetable-based inks so they can be placed in your home compost.
The Clear Pouch that holds the tea inside the box is made from a plant-based material called NatureFlex, this too can be placed in your home compost.
Pyramid Tea Bags are made from a biodegradable plant-based material called 'Soilon' (not plastic) which will also break down in your compost, however, they will take longer than other compost items. If you are looking for a more environmentally friendly option, we will always recommend drinking loose leaf tea.
About Love Tea: Love Tea was founded in Melbourne in 2006, by Naturopathy students Emma Watson and Damien Amos. Emma wanted to create beautiful products that were beneficial for customer's health and promoted wellbeing. Damien was passionate about organics, working with growing communities directly and looking after our planet.
Made in Melbourne from imported ingredients