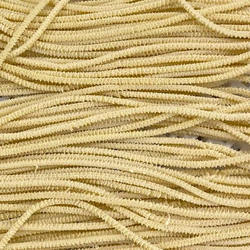 Lello Fresh Pasta Spaghetti Alla Chitarra 375g
$8.95
On special down from $9.95
Fresh pasta, handmade in Melbourne from 100% Australian ingredients. This pasta shape originates from Abruzzo & translates to "guitar"! The square cross-section has a unique texture that captures & enhances the flavour of sauces. Not organic but made from quality ingredients with love.
Ingredients: Durum semolina (wheat), water, salt
About Lello: You might remember Lello as Yak Italian Kitchen, a bustling restaurant in Melbourne's CBD. Head chef Leo (whose childhood nickname was Lello) is Melbourne born and bred but has passionate Italian roots. Sadly the pandemic put a stop to the restaurant dine-in experience, but it didn't prevent Leo and his team from continuing to produce artisanal Italian food for you to enjoy at home!
Made on Woiworung Country - Melbourne