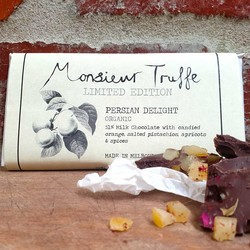 Monsieur Truffe Limited Edition Bar Persian Delight 90g
$13.95
Limited edition!
A spin on the classic Turkish Delight! Organic 51% milk chocolate with candied orange, salted pistachios, apricots, rose petals & spices. Organic chocolate hand-made and wrapped with love in Brunswick East.
Ingredients: sugar, whole milk powder, cacao mass, cacao butter, vanilla powder, candied orange, apricots, spices, rose petals, salted pistachios.
Contains nuts.
Storage: Store in an airtight container in a cool dry place, ideally between 15 & 20C. Do not store in the fridge as condensation damages chocolate.
About Monsieur Truffe: Monsieur Truffe, use organic ingredients and hand-wrap their products in environmentally-friendly packaging. They have a vast selection of organic chocolate delights, with more lines being added every week. They create a range of inclusive products suitable for vegan and gluten-free diets, all whilst not compromising on quality or flavour.
Made on Woiworung Country - Melbourne