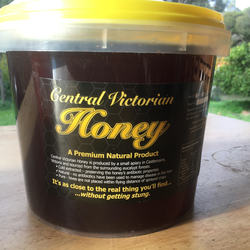 Central Victorian Honey Manna Gum 3kg VALUE BULK BUY
$54.95
This honey has warm tones of butter caramel with a hint of vanilla. It comes from the coast of South Gippsland. This honey is not heat treated & will naturally solidify in cooler weather. Transfer a portion to a glass jar, immerse in warm water & stir for a runnier consistency.
This honey comes from Manna gum trees near Corner Inlet in South Gippsland overlooking Wilson's Promontory. These trees are an unreliable producer of honey but this year it has done well, perhaps due to the wet summer.
Completely natural, no antibiotics used to manage disease in the hive. Pure, hives are never placed within flying distance of sprayed crops.
From Daniel the apiarist:
"I started beekeeping when I was about 14. I bought a hive out of the Trading Post and took it down to my parent's hobby farm in Foster. Since then bees have been a theme in my life. Even when travelling overseas I have managed to work with them.
Since living in Castlemaine for the last 25 years I've had a couple of hives in the backyard. About twelve years ago this expanded to about thirty hives and I bought a small truck to cart them around to honey flows.
I enjoy getting to out of the way parts of the State, camping and working quietly with the bees in the forests. In the winter I take them to the desert where it is warmer. In the summer when the Red Gum flowers I sometimes take them to the Murray which is a very beautiful place to camp. In the Autumn they may be closer to home on the Grey Box or over towards Dayelsford in the Wombat State Forest where the Stringybark trees flower. My two boys like to help me and recently we have begun grafting queen cells to raise queen bees.
I describe my beekeeping as an out of control hobby... it connects me to the natural world around me and provides a balance to my life"
Produced in Castlemaine, VIC
Product of Australia