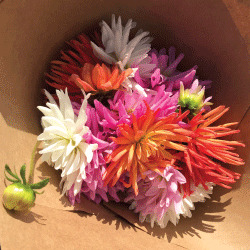 SATURDAYS ONLY
PLEASE SET YOUR CART DELIVERY DATE TO SATURDAY!
A colourful bunch of organic dahlias, fresh from Bellfrey's Farm near Inglewood in Central Victoria.
Please leave a jug of water near your front door if you will not be home when your delivery arrives.
Limited bunches available.
Dot and Nev live and grow at Bellfrey's Farm, which Dot's family has run for six generations (since 1901!). Together, they nurture an organic orchard of mixed fruit trees, a small olive grove, saffron, veggies, and various seasonal flowers!
Dot learned to grow and arrange flowers from her mum, a prize dahlia grower in the region. Later, she became a fully qualified florist and opened a shop with Nev in the Latrobe Valley. She and Nev have travelled internationally to demonstrate their knowledge and talents in flower growing and arranging; together, they're a brilliant power couple, and we're delighted to be working with them.
"We believe in organically growing sustainable products that benefit humans and animals alike, so we feel we are a great fit with Ceres and with our genuine love of flowers it can't help but be a great partnership"
Wrapped in paper & fastened with a compostable sticker.
Bellfrey's bunches are currently made up of dahlias, with colours varying as the season gets colder.
Order as a gift or for your self; a burst of brightness as the days get a bit greyer!
Product Detail

Bellfrey's farm