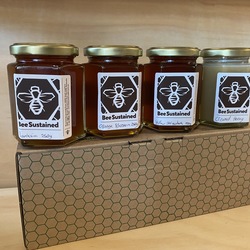 Bee Sustained Honey Gift Box
$29.95
A great sustainable gift for a honey lover. Includes 4 varieties of honey: Yellow stringybark, Messmate, Orange blossom & Creamed. This honey is not heat-treated & will naturally solidify in cooler weather. Immerse the jar in warm water & stir the honey gently for a runnier consistency.
Robert, the proprietor of Bee Sustainable, comes from a beekeeping family and has been involved with various aspects of beekeeping over many years. The Bee Sustainable project has been Robert's passion since he recognised the need for the services and goods now offered through the business.
The honey is pure, never blended and given only a light filter to remove any hive debris or bee parts.
Sourced from Central Gippsland, VIC
Product of Australia