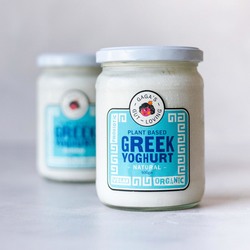 Gaga's Greek Yoghurt Natural Plant Based 500g
$9.95
A delicious creamy & tangy pot set organic Greek yogurt. PLANT BASED (from organic coconut mylk). Slowly fermented (can be quite fizzy) with lots of beneficial bacteria. Comes in a glass jar. Plastic free.
Ingredients:
Organic coconut mylk (coconut cream, water), Organic native starch, Organic fermented raw sugar, Faba bean protein, Vegan yoghurt cultures.
Gaga's philosophy is simple:
use real ingredients;
support local producers;
follow sustainable practices;
and never stop fermenting.
After catching the fermentation bug at the age of 21, Gaga's founder Blaise Bourke set himself a mission to get gut loving ferments back into Australian fridges.
Despite the obvious connotations, the name "Gaga's" is not a nod to Blaise's favourite pop-star. It's a tribute to his cabbage-farming great grandfather Michael "Gaga" Tobin.
Since 2014, Blaise has grown Gaga's from a little stall at Coburg Farmers' Market to supply independent grocers, supermarkets and health food shops around Australia. Blaise now works alongside his mum Jane, brothers Noah and Jack, and his partner Annie, which has transformed Gaga's into a family obsession.
Made in Melbourne.