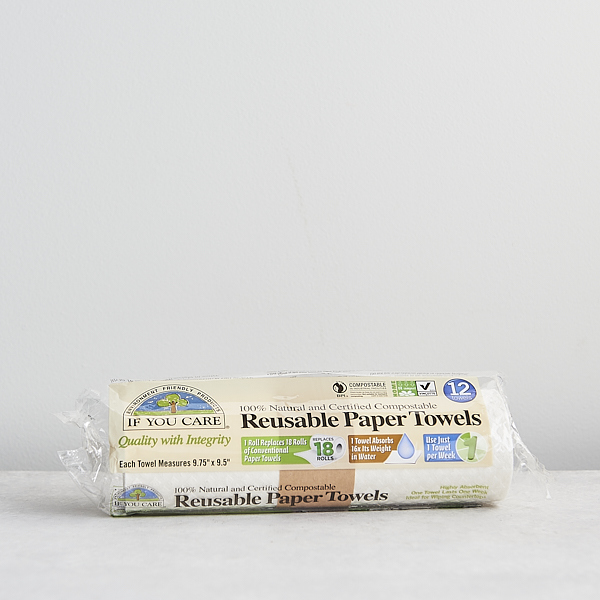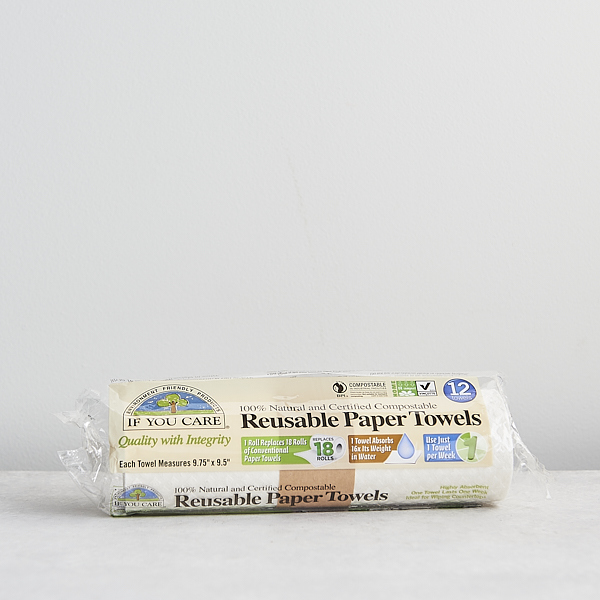 If You Care Reusable Paper Towels pack of 12
On special down from $19.95
Absorb up to 16 times their own weight in water. Clean streak free. Remarkably durable, tear & abrasion-resistant, reusable. Simply run the towel in the microwave or boil in water for one minute to kill germs. Both paper towels & packaging are compostable.
Each towel 25x24cm
If You Care Reusable Paper Towels are made in a patented process from a three-dimensional blending of cellulose, non-GMO unbleached cotton and mirabilite – a natural mineral salt. In production, the mirabilite is washed out, leaving the remaining blend (70% cellulose & 30% cotton) extremely porous, which makes the towels extraordinarily absorbent. They can absorb up to 16 times its own weight in water. Unlike bamboo towels, If You Care Reusable Paper Towels do not leave fibers on the surface even after multiple washes.
CLEANING
There is no better or more effective towel for wiping countertops in kitchens and bathrooms. If You Care Reusable Paper Towels clean streak free. They absorb liquids easily and release them with simple wringing. They are remarkably durable, tear and abrasion-resistant, and reusable for at least one week.
THE ENVIRONMENT
Every day, Americans throw away 6 million lbs (3000 tons) of paper towels. It takes 51,000 trees and 60 million gallons of water per day to produce the paper towels which we throw away after a few seconds of use. By using one sheet per week of our reusable paper towels, one roll will replace 18 rolls of conventional paper towels (based upon an average weekly average weekly household usage of 1 ½ rolls of paper towels). The packaging is a biopolymer made from corn starch which is certified compostable in commercial composting facilities, leading to a further reduction in waste, greenhouse gasses and diversion from landfill.
USE & CARE
Rinse and wring out excess water to increase absorbency. Use with water, soap and water or household cleaners. Do not use chlorine bleach or chlorine products. Rinse thoroughly between and after each use. Wring out and leave flat to dry. Clean by hand, washing with soap and warm water.
TIP: E-Z Sanitize! Simply run the towel in the microwave or boil in water for one minute to kill germs.
Did you know that both If You Care Reusable Paper Towels and their packaging are certified compostable? Throw them in your compost bin after use. No need to separate!
Made in Germany.
If You Care was conceived of as a brand of environmentally friendly kitchen and household products.
The first If You Care products were unbleached coffee filters, and they were launched in 1990. These were the first unbleached coffee filters in the U.S.
Parchment Baking Paper and Baking Cups soon followed. All of the paper products were unbleached and totally chlorine-free.
In 2004, the very first Aluminum Foil made from 100% recycled aluminum was launched. This product featured a 95% energy savings compared to conventional aluminum foil. Heavy Duty Aluminum Foil for grilling and barbecuing, also from 100% recycled aluminum, was introduced in 2007. That same year, waxed paper, from unbleached paper coated with soybean wax was launched. In 2009, two new products are being launched in the fourth quarter – 100% carbon neutral fire starters, made from FSC certified wood and vegetable oil, and sandwich and snack bags made from unbleached greaseproof paper. Many new products in a wide variety of categories are being planned and developed in the coming years.
https://buyifyoucare.com/