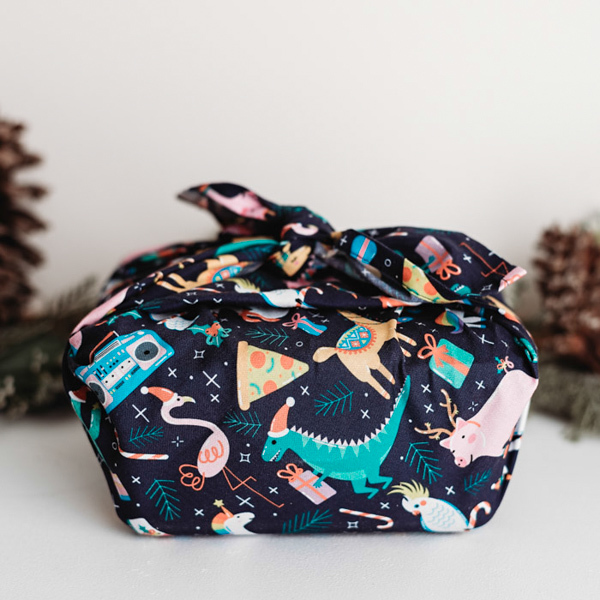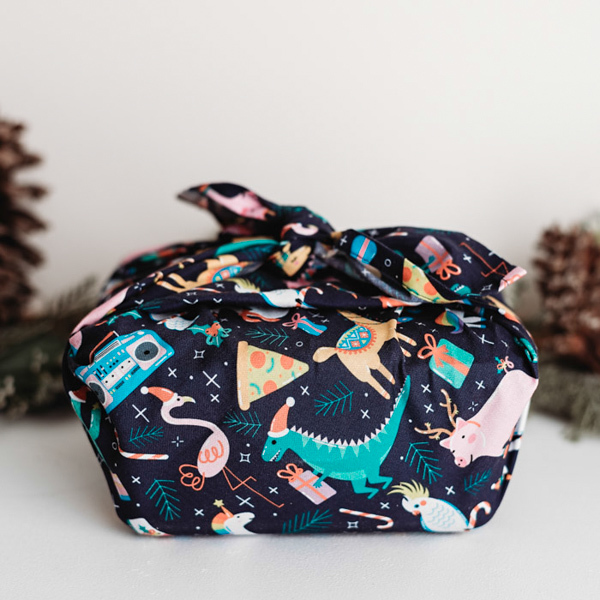 Hello Snow Globe Reusable Gift Wrap Dino Small
A sustainable way to wrap gifts in 100% cotton fabric that can be reused many times. The unique design with a removable ribbon helps to wrap any type of gift in many ways. Embrace the chaos of Christmas with this eclectic bunch of ragtag characters. Use small wrap 48x42 cm for books, candles etc
How do I wrap my present using fabric wrapping?
There are many ways to wrap a present using Hello Snowglobe fabrics. The Japanese style of wrapping with fabric is called furoshiki and it is used to transport clothes, gifts or other goods. It is done by wrapping the object and tying knots and bows to secure it. It's functional and looks great!
Hello Snowglobe fabrics are designed to be used in this method or in a traditional present wrapping style with some string or ribbon to hold it in place. For ideas or inspiration, check out the Hello Snowglobe Instagram.
Why wrap presents in fabric?
Every Christmas, Australians throw away over 350 000 km of wrapping paper! That's equivalent of 50 000 trees! And that's just Christmas alone. Wrapping paper is used and discarded without much thought and we wanted to create a way to wrap gifts in some awesome prints with a material that can be used over and over again for years to come.
What material is the wrap made from?
All Hello Snowglobe wraps use 100% cotton fabric. We prefer to use natural fabrics as they are better for the environment.
Melanie (based in Sydney) launched this small business this year. The print design, packaging design and packaging printing take place in Australia. The manufacturing of the fabric takes place in a ethical small family run factory in China. The cotton is not organic for now but as the start up business develops, Melanie who is passionate about the environment will be looking at making this sustainable product even more sustainable.
www.hellosnowglobe.com.au