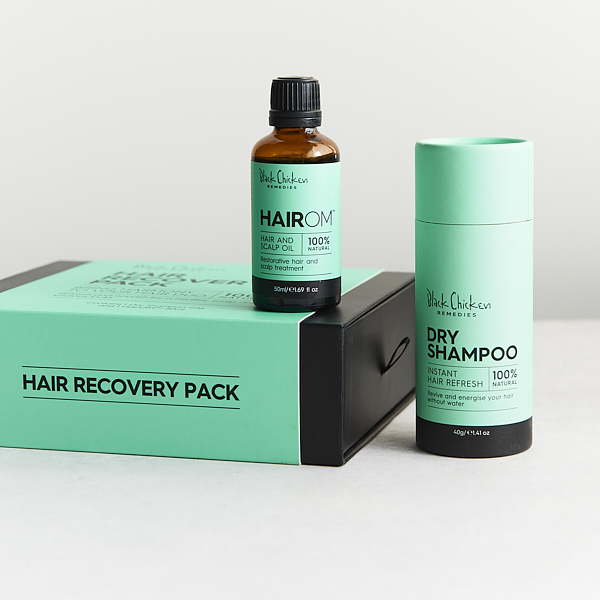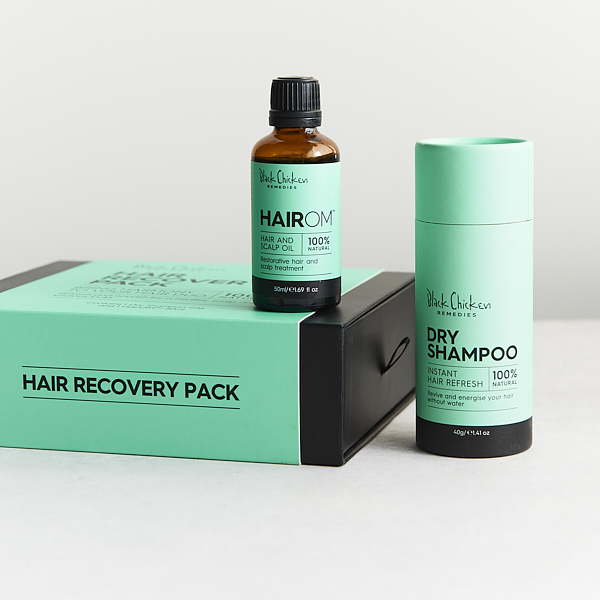 Black Chicken Remedies Hair Recovery Gift Pack
On special down from $64.95
This pack contains a potent duo: dry shampoo 40g + HairOM 50ml that together will nourish, de-frizz & rejuvenate for a healthy scalp & luscious locks.
Made with love in Australia.
Vegan, cruelty free, with no added water or fillers.
HairOM™ blend hydrates, reduces frizz and protects hair from heat damage
HairOM™ is blended with essential oils to nourish and promote hair growth
No alcohol or chemicals that will dry hair or irritate scalp
Natural Dry Shampoo Removes excess oil, adding lift and volume
This hair care combo is powerful enough to get your hair on fleek in a toxic free flash. HAIROM™ is our signature hair remedy, formulated specifically to give you a healthy scalp and luscious locks by garnering the powerful essential oils known for centuries to provide moisture, stimulate hair growth, reduce frizz and restore softness. Whilst our NATURAL DRY SHAMPOO gets you fresh as, without a wash and without chemicals drying out your hair and irritating your scalp. Winner, Winner!
Dry shampoo ingredients:
Cornstarch and Tapioca Powders – Work together to absorb any unwanted oils.
Bamboo Powder – Also helps to absorb and gives your hair volume.
Fossil Shell Powder – Is packed with silica. Silica is as good for your hair as it is for your skin. Using DE in your hair care routine can help to keep your hair looking healthy, as well as your scalp. It may also help to correct hair damage, such as from colouring, treating or chemical exposure (think chlorine). Also itchy scalp and hair growth.
Clary Sage – Regulates your hair's oil production and helps with dandruff and itchy scalp.
Rosemary – Stimulates hair thickness and growth and helps prevent premature greying.
Tapioca Starch, Zea May Starch, Diatomaceous Earth*, Bambusa Arundinacea Stem Powder, Salvia Sclarea Oil, Rosmarinus Officinalis Leaf, Citral**, Farnesol**, Limonene**, Linalool**, Eugenol**
Certified Organic ingredients*
Naturally occurring in essential oils**
HairOM restorative hair & scalp treatment ingredients
Argan Oil – Contains Vitamin E (lots of it), Omega 3, 9 fatty acids and antioxidants, all known to nourish moisturise and protect your hair from heat. It's also wonderful at reducing brittle and fizzy hair, leaving it soft and manageable.
Sesame Oil – It's not just delicious in Asian dishes, it's also a preventer of premature grey hairs and colour loss. Just like sunscreen, sesame oil is a natural sun-blocking agent. It helps prevent potential damage during extended sun exposure. By improving scalp blood circulation it also promotes hair growth and is highly penetrative nature means it helps heal chemical damage from colouring.
Hemp Oil – Contains fatty acids like Omega 6 and Omega 3. These fatty acids help stimulate hair growth. The proteins in hemp oil help in the formation of keratin. Hemp oil also helps improve the blood circulation to the scalp.
Jojoba Oil – is high in vitamins A, E and D and is great for all hair types. It helps repair damage to your hair and promotes new, healthy hair growth.
Vitamin E – An antioxidant, when applied to your scalp it helps reduce inflammation and repair damage to the follicles – healthy follicles encourage hair growth.
Argania Spinosa Kernel Oil*, Sesamum Indicum Seed Oil*, Cannabis Sativa Seed Oil*, Simmondsia Chinensis Seed Oil*, Tocopherol (and) Helianthus Annuus Seed Oil, Lavandula Angustifolia Oil*, Cedrus Atlantica Bark Oil, Rosmarinus Officinalis Leaf Oil, Pelargonium Graveolens Flower/Leaf/Stem Extract, Salvia Sclarea Oil, Coumarin**, Linalool**, Eugenol**, Limonene**, Citral**, Citronellol**, Geraniol**
Certified Organic ingredients*
Naturally occurring in essential oils**
www.blackchicken.com.au