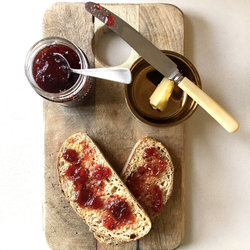 The Corner Store Network Raspberry Jam 175g
$10.95
This is not your average jam jar! Straight from The Corner Store Network Preservery rescuing food & reducing waste. Local & seasonal deliciousness handmade in small batches. Limited stocks. Not certified organic but gathered from local backyards & made with love. No Pectine.
Photo is a serving suggestion, you can wash & return the glass jar with your CERES Fair Food boxes & esky.
Try the Corner Store Network freshly roasted coffee in our Pantry category.
Ingredients:
Local raspberries, lime juice, sugar
Our preserving hubs are where farmers, producers and preservers come together to ensure a consistent supply of local food as well as reducing waste.
We know that the commercial food industry is energy, water and nutrient hungry, and that supermarkets are extremely wasteful. We are therefore providing a locally based solution to this global problem of food waste, and food miles by turning potential local food waste into nutritious produce and making it available to those who need access the most. This assists communities to move towards sustainability by becoming more self-sufficient, and giving people the empowerment and hope that they too can make a difference to the global challenges of food security and food waste. We are creating a movement of local production for local consumption.
We're working to increase access to good food for every person globally whilst also reducing our collective food waste footprint.
We engage with local communities to tackle these issues through the establishment of 'preservation hubs' which are open, inclusive and accessible to entire communities where they are located. Built into repurposed shipping containers and outfitted with food preservation equipment, the hubs are designed to be sustainable, self-sufficient, and community-led to provide a stable source of preserved food.
We run community preserving sessions, where people attend and preserve produce that has been donated and harvested from around the local area, saving it from ending up as rotting on the ground or as landfill waste.
Our preserves are all made from excess fruit, vegetables and herbs that are donated to us from people who have trees and crops producing more than they can consume. We are seasonal, and that's why you will find berry jam and tomato kassundi in the summer, but not in the winter. And orange marmalade and lemon pickle in the winter, but not in the summer.
Our batches are small too – so you won't find 100s of jars of apricot compote or quince paste. That's why we always recommend grabbing a jar of your favourites when you see them – because they won't stay on the shelf for long!
https://cornerstorenetwork.org.au/the-preservery