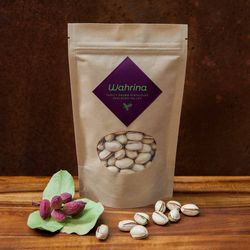 Wahrina Pistachio Nuts Unsalted 200g
$9.95
Delicious family grown pistachios (with shells & unsalted) in the Goulburn Valley.
Taste great on their own or use in cooking. Sun dried.
Grown without any nasty chemical!
We are a family owned and operated farm in Wahring, near Nagambie, just 90 minutes from Melbourne in the Goulburn Valley. Our mission is to produce the best quality nuts with minimal processing, in order to retain as much inherent goodness and flavour as possible.
These pistachio nuts are sun dried in the traditional way as much as possible. A lot slower than using gas or electricity fired dehydrators and a lot more work, this traditional process preserves the natural flavour by radiant heat rather than rapid drying by hot air.