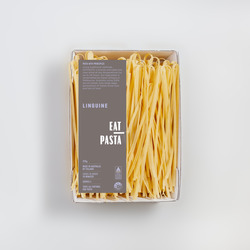 This Egg Pasta is handcrafted in Melbourne by Italian artisans. Made using traditional methods (bronze extruded & slow dried at low temperatures for 24h) & 100% Australian ingredients such as durum wheat, free range eggs, generations of Italian know how & lots of love! Not organic but high quality.
Contain eggs!
Ingredients:
Premium durum semolina, free range whole eggs, water.
Allergens:
Contains wheat , eggs.