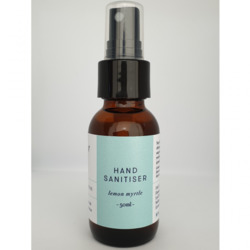 Artemis Rose Hand Sanitiser Lemon Myrtle 50ml
$10.95
70% Ethanol solution with added Aloe Vera to keep your hands soft & scented with fresh essential oils of native Australian Lemon Myrtle. Made by a family business in Tasmania. Petroleum free, palm oil free, synthetic fragrance free & cruelty free.
DIRECTIONS: Spray onto hands and rub to spread evenly. Allow to air dry (avoid smelling hands until ethanol has evaporated).
Caution: For external use only. Flammable. Keep away from fire or flame. Do not use near eyes. Keep out of reach of young children.
Ingredients: 70% Ethanol (denatured), Demineralised Water, Aloe Barbadensis Leaf Extract, Glycerin, Sodium Levulinate, Sodium Anisate, Backhousia Citriodora (Lemon Myrtle) Leaf Oil
Born from a love of plants,
Artemis Rose is based on a philosophy of harmony in nature,
Blending earthy, feminine magic with a solid foundation in botanical science.
Nestled in the foothills of Kunanyi, Hobart's majestic mountain,
I grew up connected to nature and came to understand that
Nature, beauty and healing are interwoven.
After completing my degree in Plant Science,
I set off on adventures to stunning and sacred places around the world.
My adventures taught me that the magic of plants is universal,
That their capacity to heal and transform,
Their ability to inspire through beauty and grace, is infinite.
During my first pregnancy, I became acutely sensitive to smells and
Extremely cautious of the chemicals and toxins I had to work with as part of
My profession testing water quality in a laboratory.
I decided to use my knowledge and kinship with plants
To eliminate the unnecessary use of harmful chemicals
And create a range of products that are sensual, safe, natural and ethical.
www.artemisrose.com.au