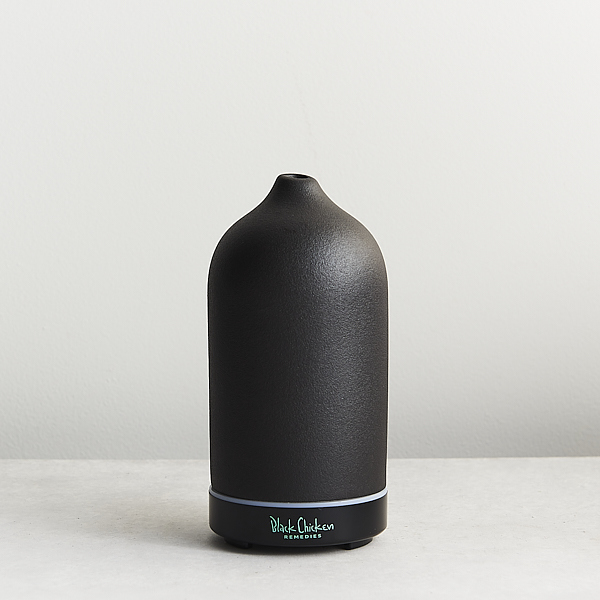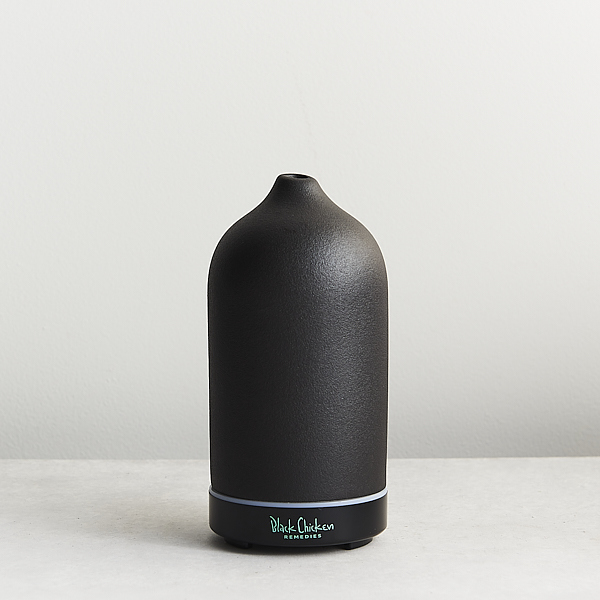 Black Chicken Remedies Skypipe Essential Oil Diffuser
On special down from $119
Free delivery!
Skypipe™ works with a whole range of Black Chicken Remedies essential oil blends.
Its ceramic ultrasonic system gives you 3-7 hours of cool mist diffusion allowing inhalation that's gentle on your eyes & sinuses but powerful on body & mind. Because Skypipe™ doesn't heat the delicate, volatile essential oils, they don't break down. With every breath, they enter the body through the olfactory system, releasing goodness.
What's in it
Includes:
Skypipe™ Essential Oil Diffuser
Measuring Cup
Instructions
*Detachable power adaptor
*Australian plug. International warranty not offered.
Remedial Benefits
When an essential oil is inhaled, the impulse responses are determined by the specific qualities of the essential oil being used, and can range from deeply relaxing to intensely stimulating. The nerve impulse in the limbic system leads to other areas of the brain that are responsible for secreting hormones and regulating body functions. Diffusers are an extremely easy and effective way of giving an aroma to a room, but there are so many more benefits to them with the use of essential oil blends.
The entire process from the initial inhalation of the oil to corresponding gland secretion takes place in a matter of seconds.
Helps reduce bacteria, fungus, mould and unpleasant odours.
Relaxes the mind and body; relieves tension, anxiety and stress.
Aids with grief management.
Improves concentration, alertness and mental clarity.
Helps control mental and physical fatigue.
Assist sleep.
Our Skypipe™ Essential Oil Diffuser allows you to unleash the full medicinal, spiritual and therapeutic potential of our organic essential oils absolutely anywhere – from your workspace to your home!
This aroma diffuser is a robust 120ml diffuser that offers 3-7 straight hours of air purification. It can be used to humidify your space as the aromatherapeutic powers of essential oils are unleashed. With each inhalation, these molecules enter the bloodstream – offering a blast of beneficial botanicals to your body and breathing.
Relaxing oils immediately begin to calm and compose; energising oils burst through feelings of sluggishness and fatigue; decongesting oils begin to clear the air, freeing you to breathe deeply.
Use Skypipe™ Essential Oil Diffuser along with your favourite Black Chicken Remedies essential oil blends to help you:
Concentrate during work or study
Relax after a long day
Ease the transition to sleep
Boost breathing
Enhance the depth of your meditation
Feel the difference in the way you sleep, work and play – inspire your limbic system and encourage clarity as you inhale deep healing and exhale stress and imbalance. Diffusing allows you to truly become one with each and every oil you unleash into the air!
Permeates room sizes 30 - 40 square metres
Empty / low water level sound indicator
Nightlight
Auto OFF when empty
BPA Free
Material: Ceramic construction, PP, ABS
Dimension: 8.6(D) x 18 (H) cm
Water tank volume: 120ml
Vapour Output: 30mL per hour
Weight: 0.6kg
Power cord length: 180cm
Diffusing time: 3-7 hours
Power: 12V/ 100-240V
Light: 12W LED
Ultrasonic vibrations at 2.5 MHz
How to use me
Find an even surface for your diffuser and remove the ceramic cover and water tank lid.
Pour 120ml of clean, room temperature water. Pour 4-5 drops of your favourite Black Chicken Remedies Essential Oil Blend into the water tank and secure lids back on.
Plug in your Skypipe™ Essential Oil Diffuser, turn it on and you are ready to inhale a change.
www.blackchicken.com.au