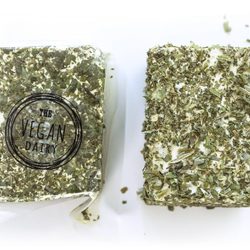 The Vegan Dairy Herb Garlic Boursin Cheese 190g
$14.95
A smooth creamy cheese with garlic & herbs & rolled in a mixture of dried chives & parsley.
Vacuum packaged in compostable plant based packaging. Shelf life 3 months while sealed; once opened best eaten within 7-10 days. Made locally in Dromana with mostly organic ingredients.
Ingredients
Organic cashew nuts, organic coconut oil, filtered water, sea salt, natural vegan cultures, garlic, chives, parsley
The Vegan Dairy is a small, family run business in Dromana that was created in 2018. Everything is handmade and of the highest ethical standard. (ingredients & packaging)
Ingredients:
We have always strived to create our products with the most minimal, healthful, and eco-conscious ingredients available. Everything we use is organic and, seeing as we know how important transparency is when we make our own food choices, we feel that's important for us to give to our customers as well.
We have a little unwritten 'law' in our cheesery that we don't use any ingredients we wouldn't eat in our own daily food preparation at home. This means no preservatives, no fillers, no ingredients that could do weird things to our bodies or our digestive systems or those of our children. We keep things simple, clean, healthy, and pronounceable! Hehe.
Though we do our best to use local Australian ingredients wherever possible, the core of our products uses ingredients that unfortunately cannot be grown or produced in Australia in large enough amounts (cashew nuts and coconut oil). So we have taken a strict approach to choosing which suppliers we use that originate overseas. We only work with companies who are 100% committed to never using any child, slave, or animal labour, and who work to support and give back to the communities they work within. The creation of local jobs, and education of local communities, means that we are not just supporting other small businesses by making use of these amazing products but we are also supporting other small communities.
Sustainable packaging:
PLASTIC FREE, HOME COMPOSTABLE PLASTIC BAGS
Plastic is a really big problem for the planet and so we are doing everything we can to eliminate it from our production completely. We have searched endlessly, high and low, ever since we started in 2016 to find a better way of vacuum sealing our cheeses to keep them perfectly fresh for you but without using plastic. AND WE HAVE FINALLY FOUND IT!! *insert happy dance*
As of 2020 we will be using 100% home compostable vacuum seal bags, and 100% home compostable labels, for our full range of cheeses. This is a HUGE step forward and means that once you are finished with your cheese you can put the empty "plastic" bag with its labels still attached either in your home compost bin or, if you don't have compost, just dig it into any garden bed or area of soil you can find! If you have no soil around anywhere and your only option is to put the packaging into landfill then you can at least know that this 100% plant-based bag will break down in less than 12 weeks wherever it ends up ????
www.thevegandairy.com