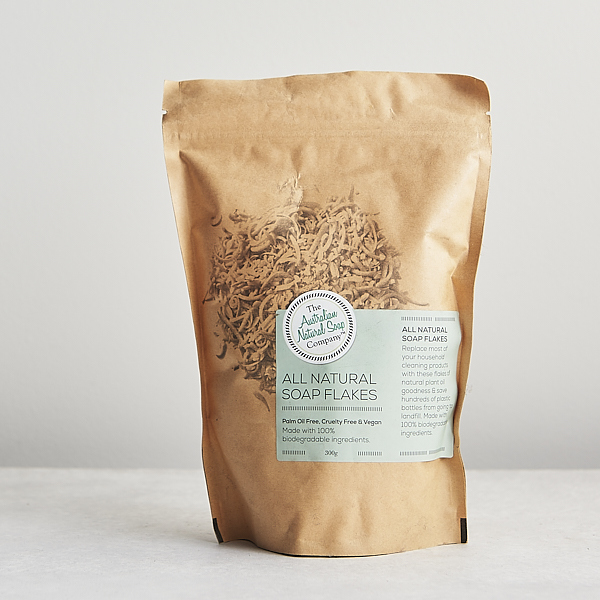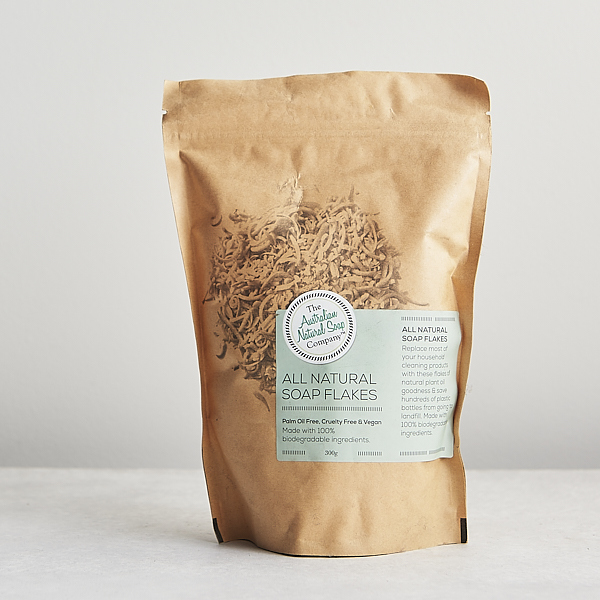 The Australian Natural Soap Company Soap Flakes 300g CLEARANCE
Down from $14.95
These soap flakes leave your clothes smelling beautiful & fresh. Biodegradable, grey water friendly, suitable for both front & top lop loaders. Use one tablespoon per wash load. Made in Melbourne. No paraben, no sulphates, no palm oil.
Ingredients:
Saponified Sunflower Oil, Saponified Olive Oil, Peppermint Oil, & Lemongrass Oil
There are amazing benefits to using natural and eco-friendly soap flakes.
Firstly, the chemicals in conventional detergents leave a residue on our clothes and linens that can be absorbed by our skin. It is easy to overlook that washing detergent is a product that we don't use directly on our skin, however every time do laundry with conventional detergents we are putting ourselves in contact with chemicals that we would never dream of using directly on our skin. This can cause a whole range of health problems including, but not limited to, allergies, headaches, nausea, and contact dermatitis.
Secondly, millions of tons of detergent are used every day to wash our clothes. They end up in our waterways and are toxic to both human and aquatic life. If the toxic fragrances weren't enough, conventional laundry detergents also contain phosphates, sulfates, ammonia, naphthalene, phenol, optical brighteners, EDTA, and more. These chemicals can affect not only your health, but they also have long term toxic effects on the environment.
Lastly, the embedded energy, natural resources and waste involved in mass-producing and transporting billions of gallons of plastic-packaged, toxic laundry detergents is just too significant for small footprint families to ignore.
Our all natural, handmade soaps have been carefully crafted to cleanse skin of impurities without the use of harsh ingredients like parabens and sulphates that are known to be drying and irritating. Instead, we use high-grade Australian plant oils that leave skin clean and moisturised thanks to our slow-set soap making methods that maintain the healing properties of the oils.