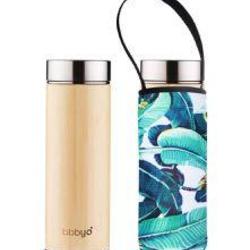 BBBYO Tea Flask Bamboo 500ml & Carry Cover
$34.95
SPECIAL INTRO PRICE
Double wall insulated tea flask with bamboo outer wall & stainless steel inner flask . Elegant pouch helps to protect the glass flask & add insulation. BPA Free.
This double-walled bottle can be used for tea, coffee, fruit-infused water, chilled wine and more.
The best part is that it will keep your drinks hotter or colder, for much longer, whether you are at the office or the gym, at the beach or out on the town.
Our Cooler Carry Covers help to make our bottles portable. The 5mm protective neoprene, makes them waterproof, tough and shock-absorbing. They also keep drinks cool.
Bamboo outer wall with stainless steel inner flask
The healthy bottle choice. Absolutely BPA free
Double walled to keep drinks hotter or colder, longer
Never beads or sweats
Cooler cover keeps drinks hot or cold even longer
Thick neoprene cover for extra protection
Covers clean easily also. Machine washable
Eco friendly. (reducing plastic pollution from plastic bottles)
The healthy safe alternative to plastic
This product includes: 1 x 500 ml double-walled Bamboo Teaflask Bottle, 1 x Stainless Steel Cap, 1 x Tea Infuser, 1 x Carry pouch.
How to use:
For hot tea and iced tea: Simply take out the tea infuser filter, and add your favourite tea (fresh tea leaves or tea bag). Pop the filter back in, and add boiling water.
For coffee and other hot drinks (hot chocolate, soups etc): Simply take out the infuser filter, and add your hot beverage. The double wall vacuum will keep your beverage piping hot, the rest of the day or night.
For fruit-infused water: Simply remove the bottom part of the tea infuser filter. Add fresh fruit and water, then pop the top part of your filter back in. Your water will stay refreshingly chilled all day long, as it absorbs all the flavour of your fresh fruit. (or fresh herbs such as mint.)
Made in China.