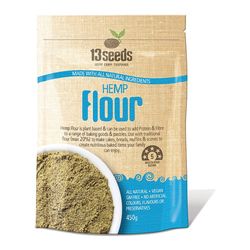 13 Seeds Hemp Flour 450g
$14.95
Plant-based flour & can be used to add protein and fibre to a range of baking goods & pastries. Use with traditional flours (max 20%) to give a nutritious boost to cakes & bread, muffins . No Fillers, GM Free, Low GI, Low Sodium, No Artificial Colours or Flavours, Preservative Free.
Not Organic but all natural ingredients including Tasmanian grown Hemp
Ingredients: Premium Milled Tasmanian Hemp Seed
May contain allergens. Processed on machinery that may have traces of nuts, milk or eggs.
Hemp is a source of plant based protein, naturally contains omega 3 & 6, Magnesium, Zinc & iron. Hemp is a also a source of fibre.
* not organic but hemp grown with passion & no nasties or chemicals in Tasmania.
From 13 Seeds Founder Gemma:
"From our farm to your door:
Trust is one of the biggest issues facing you & I today or more specifically...who to trust?. That is one of the reasons we started 13 Seeds.
We all want to be healthy & well and to be good stewards of the planet & environment. W want to support local people, local economies & for our children to inherit a legacy of purpose & action.
13 Seeds started a few years ago when we grew a little bit of hemp on our organic farm in Southern Tasmania. We would sell our produce at the village markets on cold Tassie mornings to local & friends. There is no flashy head office, marketing department or pumped up sales team...just gumboots, vision & hard work.
So, welcome to our farm store, it's great to have you here & please help us spread the word about this amazing plant & the benefits it offers each & every one of us & the world we all share.
www.13seeds.com.au