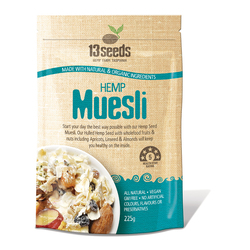 13 Seeds Hemp Muesli Untoasted 225g
$9.95
This delicious natural muesli contains the goodness of certified Australian organic rolled oats & Hemp seeds, with lots of dried fruits (sultanas, currants, apricots, cranberries) & almonds & seeds. A great start to the day!
Not Organic but all natural ingredients including Tasmanian grown Hemp
Ingredients:
Certified Organic Australian Rolled Oats, Natural Sultanas (Australian), Currants (Australian), Apricots (Turkey), Sunflower Seeds (Australian), Raw insecticide free Almonds (Australian), Linseed (Australian), Certified Organic Coconut (Philippines), Cranberries (USA), Hemp Seeds (Australia).
May contain allergens. Processed on machinery that may have traces of nuts, milk or eggs.
Hemp is a source of plant based protein, naturally contains omega 3 & 6, Magnesium, Zinc & iron. Hemp is a also a source of fibre.
Made in Australia from at least 74% Australian ingredients.
From 13 Seeds Founder Gemma:
"From our farm to your door:
Trust is one of the biggest issues facing you & I today or more specifically...who to trust?. That is one of the reasons we started 13 Seeds.
We all want to be healthy & well and to be good stewards of the planet & environment. W want to support local people, local economies & for our children to inherit a legacy of purpose & action.
13 Seeds started a few years ago when we grew a little bit of hemp on our organic farm in Southern Tasmania. We would sell our produce at the village markets on cold Tassie mornings to local & friends. There is no flashy head office, marketing department or pumped up sales team...just gumboots, vision & hard work.
So, welcome to our farm store, it's great to have you here & please help us spread the word about this amazing plant & the benefits it offers each & every one of us & the world we all share.
www.13seeds.com.au