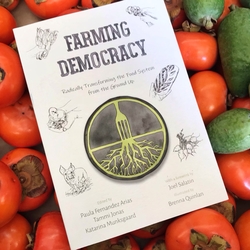 Book - Farming Democracy by the Australian Food Sovereignty Alliance
$34.95
We want to open the farm gates, open the books, and open our hearts to the community and let the world see the true work, rewards, and costs of farming.
Farming Democracy tells the story of family farms doing things differently, working for a 'new normal' in agriculture that is fair to soil, water, animals, and people. These farmers are building regenerative, agroecological systems that are viable in an epoch that has seen a sharp decline in the number of farms globally.
To paraphrase a famous philosopher, those who control the means of production control the world. For too long that control has been in the hands of corporate, industrialised agriculture serving the interests and maintaining the wealth of distant shareholders at the expense of the planet and its inhabitants. But things are changing, and the number of regenerative farmers is growing, slowly wresting control back into the hands of the people to the benefit of local communities, ecosystems, and animals everywhere.